This addon is compatible with
Microsoft Flight Simulator X
. It should also work with
Microsoft Flight Simulator X: Steam Edition
. Some developers have explicitly stated compatibilty with Steam Edition but others haven't. Check the product description below for guaranteed compatibility. Just because it doesn't mention it, this does not mean it will not work with the
Steam Edition
.
Sound Pack Compatibility Note: This sound pack will work with any aircraft model, both freeware or payware in FSX and P3D.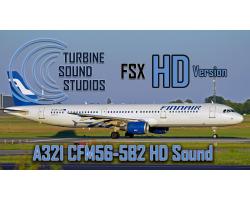 Media Format

Immediate Download

Compatibility

Microsoft Flight Simulator X inc. Steam Edition and Prepar3D (all versions including v4)

File size

80 MB
Are you looking to get the sound quality boosted up in either FSX or FS2004? Then you need to consider giving this a try. This package was created by the highly reputable Turbine Sound Studios, who have created a wealth of modifications over the years that improve the audio experience massively.
It's very important to have every aspect of the flight simulation covered, and this includes the sound. You don't want to be flying around with third-rate audio playing in the background as it just will not prepare you for the real thing as it has the potential to do.
With these modification packages created by TSS waiting for you, though, it becomes a lot easier to get the kind of audio that you need to see. Recreated in stunning HD sound, this gives you access to a whole new variety of new clips that have been recorded from Airbus models all across the world.
In this mod, you will find a comprehensive new selection of audio files for the A321 model of the Airbus class of aircraft that are so popular. For anyone who enjoys flying with Airbus, you can get a far more complete experience with this.
Key Features
Designed to give you the most complete service possible, this manages to capture the feeling and the audio perfectly for each model. With hours' worth of audio formatting and mastering put in to get the finest quality possible, this really delivers on the audio format for each and every aircraft included

Many features have been improved and changed along the way within the way that the aircraft sounds when it's being operated – depending on what model you fly; you will hear a variety of different sounds. This can vary from simply starting the aircraft to activating the warnings

This variance in sounds makes it incredibly easy to manage, giving you access to things like cockpit environment sounds that sound extremely realistic. It helps to tune out the noise from outside, although you will still hear the engine sounds blaring from either inside or outside the aircraft – it's just a very noisy brand of aircraft!

The new sounds, however, are designed to help you keep your cool and understand just what is going on at any given time. To do this, you need to make sure that you are listening out for the numerous new sounds you can hear – from the noises made by the gears when you move up or down you can find that the aircraft is far more useful than it used to be

You'll find yourself being notified by the aircraft when the speed goes beyond a certain point, meaning that you need to think fast and get your aircraft back in order. In the past, these warnings were either non-existent or extremely low quality and muffled making it hard to actually hear properly

With this mod, though, the inclusion of 3D soundcones makes sure that sound emits itself just as it would in reality
Submit a review of this product
Customers Also Purchased