This addon is compatible with
Microsoft Flight Simulator X
. It should also work with
Microsoft Flight Simulator X: Steam Edition
. Some developers have explicitly stated compatibilty with Steam Edition but others haven't. Check the product description below for guaranteed compatibility. Just because it doesn't mention it, this does not mean it will not work with the
Steam Edition
.
Sound Pack Compatibility Note: This sound pack will work with any aircraft model, both freeware or payware in FSX and P3D.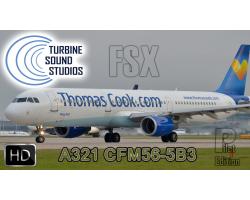 Media Format

Immediate Download

Compatibility

Microsoft Flight Simulator X inc. Steam Edition and Prepar3D (all versions including v4)

File size

92 MB
As one of the most reliable aircraft of its style, the Airbus A321 has quickly established itself as the go-to guy for many reasons, not least because of its durability and its size. However, one of the most impressive factors of this aircraft is the engine(s) utilized.
This recreation of the A321 takes the unique sound of the CFM56-5B3 engine and creates an engaging range of noises which are captured through actual use of the real engine. Everything from hitting the water to picking up speed now has the official, correlated sound that matches up with its realistic format.
The sound of this aircraft is one of the most iconic features, and with this addition you get access to;
Internal and external engine sounds which are built to offer an extra layer of realism to the whole proceeding, making it ten times easier to manage and to fly with.

Wind sounds which are fantastic in their design and make sure that you get a true appreciation of what makes this sound so iconic, creating an interesting and engaging way to fly in the skies and to keep yourself on the right track, making sure you always have authenticity around.

Gearing up and gearing down? Now, your aircraft will react to this and make sure that you hear those sounds roaring into life which adds yet another little bit of realism to the proceedings. This is matched by the usage of various other smaller sounds to help fill the cockpit.

Another great addition is the usage of callout sounds that dictate when you activate a process like stopping your autopilot, when you crash or splash, when you move upa gear or even when you are going too quick – these little prompts will always help to keep you right when flying.
All of these have been recorded in full HD quality, and do everything they can to tell the story of the excellent engine kept inside. This remake of the aircraft does everything it can to really detail that sound and that effect which the CFM56 engine is so famous for.
Capable of hitting up to 4,000nm this aircraft has the power needed to get you where you need to go – and now you can get to hear yourself get there in true style, as well. This helps to sell the purpose of the package – authenticity – in the grandest manner possible.
Indeed, the whole scenario is about making sure you have the help that you need to really buy into the access of this aircraft. Since the A321 is part of such a successful aviation family it's very simple to buy into its style and its nature, increasing your overall competence as a pilot. Indeed, the whole scenario becomes ten times easier to manage thanks to the sound as now you can react to what the aircraft itself is telling you. The idea, then, is to keep things unique and engaging and to give you the ability to hear the reaction instead of just hoping that you see it!
Submit a review of this product
Customers Also Purchased