This addon is compatible with
Microsoft Flight Simulator X
. It should also work with
Microsoft Flight Simulator X: Steam Edition
. Some developers have explicitly stated compatibilty with Steam Edition but others haven't. Check the product description below for guaranteed compatibility. Just because it doesn't mention it, this does not mean it will not work with the
Steam Edition
.
Sound Pack Compatibility Note: This sound pack will work with any aircraft model, both freeware or payware in FSX and P3D.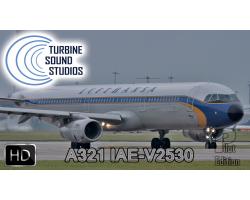 Media Format

Immediate Download

Compatibility

Microsoft Flight Simulator X inc. Steam Edition and Prepar3D (all versions including v4)

File size

79 MB
This package, created by Turbine Sound Studios, was created to help fans of the brilliant Airbus A321 get used to the way that it sounds at all times, as well as making sure you'll have no problems in understanding what makes this unique part of the situation so fun to use.
Whilst functionality and performance are always important, presentation is every bit as required to make the simulation feel authentic – and with this mod, you can finally make the sounds of the aircraft burst into life and give you the real depth and care that you would expect from this.
By utilizing the power of the Pilot Edition which is included, the engine sounds are far more balanced and feel a lot more enjoyable to play around with; they'll give you a much better understanding of why this aircraft sounds the way that it does, selling its format perfectly.
The Additions
You will gain access to;
New engine sounds both externally and internally, giving you a first-hand glance at the power of the engine included within this model. This will ensure that you have no problems in getting used to the depth and power of the aircraft with little adjustment needed.

Wind sounds and other environmental effects will come into play, creating a unique swirl that adds another nice little layer of realism to the party and ensures you are left with an aircraft that sounds just perfect, creating that deep and invasive sounds that's needed when flying this aircraft.

Gearing effects whether you go up or down the gears – you will then hear the aircraft react to whatever instructions you deem necessary to input.

Callouts and warnings which will make sure you don't go too far down one particular route, and ensuring you're always aware of what is happening.

These extra features are all recorded in full HD and will ensure they sound just right within your simulator, adding another little layer of realism.

The autopilot will disengage as well as the customized splashing and crashing, creating a much more enjoyable process than it's ever been in the past.
The Airbus A321
The easy to remember name of this aircraft is not all that there is to note about it – as a derivative of the well loved A320, this brought a whole range of extra features to the table and made sure it offered stretched fuselages and performance maintenance systems. It makes use of various little extras to make sure that the A321 is capable of flying with nothing like the same procedural headaches other Airbus models have caused. This helps the whole thing come to life perfectly and also ensures you'll have no problems in arranging the ideal scenario when flying.
All it takes, then, is a bit of adjustment and change to make the aircraft run the way that you intended. CFM International CFM56 or International Aero V2500 engines are the most commonly used engines within this model, and sounds have been adjusted to fit perfectly.
Submit a review of this product
Customers Also Purchased