This addon is compatible with
Microsoft Flight Simulator X
. It should also work with
Microsoft Flight Simulator X: Steam Edition
. Some developers have explicitly stated compatibilty with Steam Edition but others haven't. Check the product description below for guaranteed compatibility. Just because it doesn't mention it, this does not mean it will not work with the
Steam Edition
.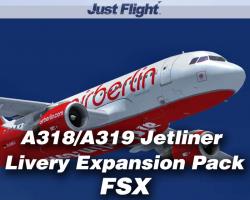 Media Format

Immediate Download

Compatibility

Microsoft Flight Simulator X and Just Flight A318 Jetliner or Just Flight A319 Jetliner base packs.

File size

95 MB
You must have either the Just Flight A318 Jetliner or Just Flight A319 Jetliner base pack installed to use this expansion.
For many flight simulation fans, being able to access additional content is all that they want to do; after you use a few mods and see just how much potential there is within the flight simulation community, it becomes hard to just return to the vanilla expansions and use them as they were! The A318 Jetliner is one of the most popular Just Flight mods out there due to obvious reasons, thanks to the incredible attention to detail and quality of the mod.
However, not every mod is released at its very peak; this excellent little livery expansion package totally broadens the skyline for you in terms of what you will be flying and how the aircraft will look. Although the original package comes with nice liveries included, you can make it even more varied thanks to this excellent service. This lets you totally open up what you intended to do, making it easier to fly the A318 or A319 of your dreams!
This is a cost-effective addition to your own flight simulator that helps to knock up the reality a little notch and make the whole thing look better than ever. Now you'll have an entire fleet to pick from instead of just one or two cool looking models; all of the liveries fit the expansion perfectly and look just as they would have in the real world. Every little detail is included to make sure that the livery truly shines and looks just as you would have expected it to.
It's nice to be able to change things up a little bit and give yourself an aircraft that looks, feels and performs just as it would have in the real world. However, sometimes even this is not enough to keep things fresh and interesting for you – so why not try out a package like this?
It'll make your life so much easier in terms of choosing an aircraft to fly in; with so much variety when flying the excellent A318 or A319, why bother getting confused? Just choose from your freshly expanded list and enjoy the skies as you always wanted to!
What You Get
By making your own choice and variety so much greater, you'll find that flying around the skies with both planes has just become a little bit fresher once again. If you'd ran out of enthusiasm for the old model, you'll find that these new liveries that are included make things even more interesting once again. You'll get access to liveries such as;
A318
Frontier N803FR
LAN PW6122A CC-CVN
Pratt & Whitney 122A Engines also included in the new A318 model within this package
A319
Air Berlin D-ABGJ
Air Canada C-GARG
BMI G-DBCJ
EasyJet G-EZAC
S7 Siberia Airlines VP-BTO
Delta N302NB White
Submit a review of this product
Customers Also Purchased