This addon is compatible with
Microsoft Flight Simulator X
. It should also work with
Microsoft Flight Simulator X: Steam Edition
. Some developers have explicitly stated compatibilty with Steam Edition but others haven't. Check the product description below for guaranteed compatibility. Just because it doesn't mention it, this does not mean it will not work with the
Steam Edition
.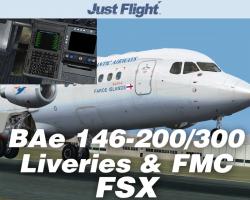 Media Format

Immediate Download

Compatibility

Microsoft Flight Simulator X & Just Flight BAe 146-200/300 Jetliner Base Pack (available here).

File size

295 MB
You must have the Just Flight BAe 146-200/300 Jetliner Base Pack in order to use this expansion. You can get the base pack here.
This is an excellent expansion pack for Just Flight's BAE 146-200/300 package for Flight Simulator X. The original package offered two awesome models of the short haul jetliner, as if straight out of the factory, and included a highly detailed flight deck and meticulous flight dynamics. This new expansion pack will get you even more mileage out of an already great add-on.
How about an additional 18 liveries to choose from? If you already purchased the base pack, you will have had the time to look through the 21 liveries that came with it, but with almost double that number you really will be spoiled for choice. These super-quality liveries cover European, North and South American operators. With some well recognized names like Virgin, US Air and Swiss Star Alliance, as well as a few that are slightly more off the radar.
The other key addition in the expansion pack is the optional FMC (Flight Management Computer). When Just Flight released the base package, it was not equipped with a FMC because the real life counterpart doesn't have one, and as always, they were striving for maximum realism. But keenly aware that many pilots like to fly with one, they've included one with this expansion pack, complete with a comprehensive FMC guide in PDF format. What's nice is that it's an optional installation; if you want to carry on flying your 146-200/300 without a FMC, and instead just get all the new liveries, you can do exactly that.
Just Flight have shown over and over again that they can produce some of the best content available for our favorite simulators. Not only that, but they continue to expand on their work and listen to pilot feedback. This expansion pack is a great example of how much these guys are willing to do; with a huge amount of new content including a fully functioning FMC, and at such a great price, we can only hope for more expansions as good as this one.
Manufacturers Description
Enjoying the Just Flight 146-200 Jetliner?
If you'd like some additional liveries and an F-Lite style FMC (Flight Management Computer) then this pack is for you!
The 18 super-quality liveries cover Europe, the USA and South America and bring you a mix of well-known airlines as well as some of the more obscure carriers.
The real 146-200/300 was not fitted with a FMC as it left the factory but we thought that you might like the added versatility of flying with an FMC. If you prefer to keep things simple, you can still fly the 146-200 and 146-300 without installing the FMC but with these new liveries!
18 Liveries
European operators
Atlantic Airways
Conti-Flug
Crossair (Livery B)
Romavia
SAS
SwissAir Express
Virgin
North American operators
Air Cal
Air Wisconsin
Delta Connection
NWA
United Express (Older livery)
US Air (Newer livery)
South American operators
Star Peru
Aer Lingus
Astra Airlines (green)
Swiss Star Alliance
Jet2 (white)
FMC (Flight Management Computer)
This custom-coded Flight Management Computer (FMC) complete with manual is designed to assist you with functionality that many flight simmers miss on the default FSX aircraft:
Flight Plan pages - load and activate pre-made FSX flight plans without having to leave the cockpit; track the route, and get an overview of distances and arrival times to the next waypoint en route and your destination
Modify your route and save it
Cockpit Navigator pages - easily switch (open/hide) panels via the FMC
Checklist pages - access checklists and work through them with the help of the FMC showing you matches/mismatches between required checklist items and current aircraft settings. Only when all aircraft settings match the checklist requirements will the checklist will be completed and closed
Aircraft/flight status page, showing date/time, coordinates and some general aircraft information at a glance (flaps status, gear status, fuel status, lights etc.)
The FMC can hold two flight plans - an active flight plan and a standby flight plan. You can load a flight plan direct as the active flight plan (for immediate use) or you can load it as standby flight plan and set it active later. You can have an active and a standby flight plan loaded at the same time, so that you have an alternate route in case you need to change plans. With both flight plans you can add and remove waypoints
Manual
A PDF guide to using the FMC manual is included with the software.
Submit a review of this product
Customers Also Purchased