This addon is compatible with
Microsoft Flight Simulator X
. It should also work with
Microsoft Flight Simulator X: Steam Edition
. Some developers have explicitly stated compatibilty with Steam Edition but others haven't. Check the product description below for guaranteed compatibility. Just because it doesn't mention it, this does not mean it will not work with the
Steam Edition
.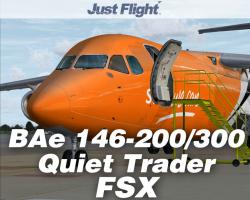 Media Format

Immediate Download

Compatibility

Microsoft Flight Simulator X & Just Flight BAe 146-200/300 Jetliner Base Pack (available here).

File size

175 MB
You must have the Just Flight BAe 146-200/300 Jetliner Base Pack in order to use this expansion. You can get the base pack here.
The Bae 146 200/300 mod that is included in here is one for those who enjoy flying comprehensive takes on commercial flights. As part of the popular Quiet Trader Expansion Pack, this adds yet more improvements to the already excellent Just Flight BAE 146-00/300.
By enhancing and changing so many features about the aircraft, you are left with a program that ensures your aircraft can carry itself with class and decorum – just the way that it was supposed to.
Inside this base package you will find access to 21 liveries from operators all across the world, as well as two new models that really do capture and change the look and feel of the aircraft in every way possible.
Indeed, it even makes sure that you have a larger hanger with the aircraft fitting in with ease. There are six liveries within the package, by the way, which represent different big cargo operators so if you want to be doing a cargo mission you'll get the appropriate designs included in here!
This mod also adds the brilliant TNT Airways design, and the traditional TNT livery included in here comes in the resplendent orange we are all so used to seeing. With the orange front and white tail you can have a deeply distinctive looking livery to fly around in, supporting the TNT logo proudly as you do so.
You also get the lesser used white TNT variant, offering you even more class and style without the same "wow!" factor that comes with using the Just Flight BAE 146-00/300 in white.
Another livery add-on that was included in here was that of VLM Airlines, a Belgian airline firm that has a huge amount of popularity. This is arguably the most colorful of all the new liveries included in here, as it uses a rich blue design for the engine and the main body with a light gray design for the wings and underside of the fuselage.
Other major liveries that have been included are the likes of Sky Pak International, Air Foyle and Australian air Express. All of these new liveries come to life in their own way, showcasing the class and the style of each company in their own unique manner. This does a great job of selling the aircraft itself, with the distinctive designs offering a unique and challenging change to what many of us would consider the bland world of liveries.
Aside from these excellent changes, you can make sure that your Just Flight BAE 146-00/300 time is spent flying around looking different than before. If you fancy a change from the dull and average liveries of the past, this might just be the perfect place to start with!
So the next time you want to fly the Just Flight BAE 146-00/300, you can do so using the bright and charming colors that this mod introduces!
Submit a review of this product
Customers Also Purchased