This addon is compatible with
Microsoft Flight Simulator X
. It should also work with
Microsoft Flight Simulator X: Steam Edition
. Some developers have explicitly stated compatibilty with Steam Edition but others haven't. Check the product description below for guaranteed compatibility. Just because it doesn't mention it, this does not mean it will not work with the
Steam Edition
.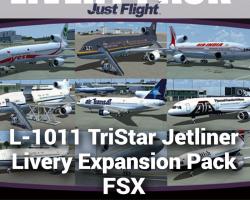 Media Format

Immediate Download

Compatibility

Microsoft Flight Simulator X and L-1011 TriStar Jetliner

File size

180 MB
Are you a fan of the old L-1011 TriStar Jetliner mod? Then you might want to finally add to what is an undoubtedly excellent product. This set of liveries covers both civilian and military models and this will make it even easier for you to understand and appreciate the variety of this specific aircraft model over the years.
This is an aircraft that has long prided itself on looking excellent, and with this new mod you have no problems in replicating that. Now you can fly all across the globe knowing that you are using a historically accurate rendition of the aircraft, with new liveries making sure you can fly for both the big international boys and lesser-known national options from across the globe.
Indeed, with the extra military liveries as well you have a solid take on a brilliant aircraft that now looks even more variable than the excellent original release.
Civilian Livery Changes
Aside from giving you new military liveries for this mod, you also get access to some fresh and exciting new civilian liveries for the L-1011 TriStar. One thing you will love, however, is the addition of the following improvements for the "normal" version of the aircraft;
British Airways livery
Delta Airlines livery
BWIA (old) livery
Air Transat livery
Air India livery
ATA Hawaii livery
Hashemite Kingdom of Jordan livery
LUZAIR livery
Air Luxor livery
Yes livery
Military Livery Changes
This latest addition includes the following models;
C2 Early White – This scheme was first worn by the RAF aircraft after they had been received from Marshall Aerospace following their completion. This is one of the three models eventually taken on by Pan Am.

C2 White – This more modern white version was used by Marshall Aerospace, adopting a nice gloss white look to make it look even better. It lasts from the 1980s right through to 2007.

C2A White – This other take on the white module was further improved by the addition of the Large Aircraft Infrared Countermeasures system brought to life by Boeing.

KC1 White – The best part of this version was to use the British Airways design for prestige purposes, helping raise the profile of the KC1 accordingly. Also used in both cargo and air-to-air re-fueling.

K1 Grey – This K1 Grey setting is one that you can truly love taking part in, adopted in 2005 and remaining in full use until today. One of the few purchased by BA later on down the line.

K1 Low Viz – Designed in 2005, this is still in use until its retirement in 2013 – it was the first of the RAF TriStar models to be adopted to fresh avionics for some time.
System Requirements
You will need the following to run this mod properly;
A fully working copy of the Just Flight L-1011 TriStar mod.
A working boxed or downloaded copy of Microsoft Flight Simulator X with Acceleration of Service Pack 2. This is fully DirectX 10 Preview compatible, also.
A 3.0GHz PC or any Dual Core quality processor.
At least 1GB RAM.
At least a 256 MB graphics card.
Windows 7, Windows Vista or Windows XP.
780MB HD Space.
Submit a review of this product