A318 Jetliner for FSX

7 reviews

This addon is compatible with
Microsoft Flight Simulator X
. It should also work with
Microsoft Flight Simulator X: Steam Edition
. Some developers have explicitly stated compatibilty with Steam Edition but others haven't. Check the product description below for guaranteed compatibility. Just because it doesn't mention it, this does not mean it will not work with the
Steam Edition
.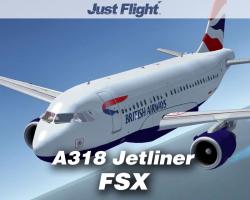 Media Format

Immediate Download

Compatibility

Microsoft Flight Simulator X

File size

138 MB
While this may be smallest airliner in the Airbus line of aircraft, the A318 Jetliner one of the most commonly used because it was carry a fair amount of passengers and get to where it's needed quickly and effectively with the minimum fuss. It's strong service history and mule-like characteristics make it hugely popular with many companies across the globe. It is typically used for short-to-medium length journeys with a lower scale of passenger density, making it useful for smaller jumps around the nation and perhaps around bordered countries as well.
This aircraft carries a huge amount of popularity for fairly obvious reasons, due to its cost-effective nature when boarding and the ease of which it can be flown by the pilot. If you want to use one of the most user-friendly aircraft of recent generations then this creation by Just Flight is just what you are looking for! Made exclusively for FSX, this remake of the A318 acts as the perfect introduction to some of the smaller Airbus units that can be incredibly fun to fly.
Offering elite level design and rapidly functional controls that have been based almost identically on the real thing, this is the right solution for anyone who wishes to create that Airbus feeling of genuine pulling power and strength while combining with a little more elegance than you might be used to!
It takes the real frame and shape of the A318 and brings it directly into FSX, creating a system that is attractive to look at and very close to the real thing. From the smallest spoilers and extras to the key parts of the design that absolutely have to be made 100% correctly, this gives you a solid representation of this massively popular aircraft and even gives you various cockpit modelling features. This includes a Multi-function Control Display Unit.
Designed to give you the level of authenticity that you need is you are looking to leanr and improve your flying style and capabilities, then this is just what you need – it uses realistic sound effects and prompts to give you an experience far beyond the basic design, making sure that even seasoned professionals who have used the A318 in the past can get to grips with the system as quickly as possible.
Key Features
Dedicated design that is made to really push the FSX engine to the very limits – takes every last bit of footage necessary and has created a package that easily represents the real-life equivalent by using many different sources to create something genuine and realistic as opposed to a cheap imitation that you might find elsewhere

High quality virtual cockpit that fits with the models level of performance and class – makes it easier than ever before to run your simulation as the virtual cockpit offers functionality as well as performance, having been optimized to run as smoothly as it possibly can

Custom-coded Multifunction Control Display Unit, giving you full control over the aircraft from the minute you step foot into the cockpit – this makes it easier than ever to plan your flight out, track the flight progress, get overviews on everything that you might need and even set up checklists so that you can follow the progress and ensure that you are hitting your targets

Custom dynamics such as fuel and weight carrying capacity using various A318 official references to make sure that every last feature and addition has been accounted for, verified and proved to be the case before it was implemented

A variety of new camera angles included as well as being able to show the wings from the interior view of the cockpit, giving you the actual view that a real-life pilot would have when flying!

Bump maps included to make the liveries feel even more realistic, as well as secular effects included on each livery to give the aircraft a much better shine from the sun and the elements around it

New animations included such as the wheels rotating and the engine fans turning on to give the aircraft even more life – you will see the hardware clicking into place and revving up rather than magically going from on to off again immediately!

Special effects such as tyre smoke effects, fire and sparks from the underbelly if you over-rotate the aircraft and even smoke from the engine when it first turns on makes the aircraft look the best that it ever can within the FSX engine, giving you more realism and quality than ever seen before in a representation of the A318

DIRECTX10 compatible, giving you even higher levels of quality in the design and the overall way that the game operates – this makes everything really stand out, with features that may be missed on DIRECTX9 easily visible on 10! Download DIRECTX10 HERE

Layered paint kit included so that you can make the aircraft look just as real as you would like, making liveries from scratch so long as you have some photo editing software

Flight planning has never been easier than it is with this A318 adaption – provides you with the ability to use both STARs and SIDs as well as radio and navigation frequency entry, making it easier than ever before to go from one end of the planet to the next using the navigational tools to get you there!

Progress displays and other directional waypoints included on your HUD in the cockpit meaning that you can get all the information you need about the flight as you fly, improving you comprehension and ability to read the boards in front of you as you fly

Comprehensive rebuild of the original aircraft, giving you a totally fresh new perspective on one of the most impressive of the Airbus family over the last few years – if you want to see the aircraft at full efficiency, more than capable of moving forward and creating the type of performance that it makes in real life then your best bet is going to be starting here!
Customer Reviews
Rated 3.9/5.0 based on 7 customer reviews
04/28/2017

4

/

5

Verified Purchase

For £4.99 what can you complain about really. It's a lovely aircraft to do a quick hour flight or something, doesn't take you to know every single system to get it powered up and running. It's a nice model with good details (although some could be improved, but again for the £4.99 spent, I cannot complain). Fly's great, autopilot works a dream and the dynamics are good too. Overall I'm happy with this aircraft and would purchase another JF F-Lite range aircraft and would recommended this to a friend. 4/5 for me.
07/10/2018

3

/

5

I'm not sure I purchased from here, but great value. Cockpit is bare like the default planes or freeware a319s. If you only want to spend 4.99 on an airbus, then this is your choice, But if you want super realism, go with Aerosoft a318/19

Exterior:7/10 Cockpit:3/10 Dynamics:7/10 Sound:6/10 Systems:2/10

Overall:4/10
10/14/2018

5

/

5

Verified Purchase

Superb value! The VC is easy to use with functional Autopilot buttons and knobs, plus the MCDU with plenty of features. The MCDU needs Just Flight's SP1 to be installed from here: https://support.justflight.com/support/solutions/folders/17000130482
08/15/2016

4

/

5

Verified Purchase

Very good aircraft, FMC is basic but nice. Extremely good on FPS. Some extra features like working window wipers and DEP/ARR availability on the FMC would be nicer. But it's £5 and is a very very well spent £5. Highly recommend
11/09/2017

2

/

5

Verified Purchase

The Modeling Is Great But Everything Else About It Is HORRIBLE The Cockpit Dont WorkAnd Flaps Dont Ps:I Was On Windows 10 On FS Steam Edition

WASTE OF MONEY
11/05/2017

5

/

5

Verified Purchase

Hello all Very pleased with the A318 for FSX easy to use dose what it says on the box ( Down load) and works well on the FSX Steam Edition loaded on Windows 7
12/15/2017

4

/

5

Verified Purchase

It is ok airframe is fine and sounds are acceptable
Submit a review of this product
Customers Also Purchased