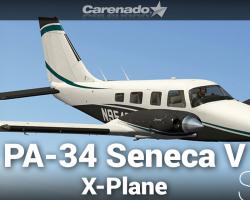 Media Format

Immediate Download

Compatibility

X-Plane 10.50 or higher and X-Plane 11

File size

500 MB
Recreated in full detail for X-Plane 10 and X-Plane 11 users by Carenado, this uplifts the Piper PA-34 to a new level of detail. Now with full support for X-Plane 11, this makes use of various new XP11 specific features. From the new Physically Based rendering system for interior and exterior models to XP11-specific flight dynamics, many new features are included.
Fuel consumption, ground handling, HDR lighting, flaps, and elevators, as well as Nav To/From systems, have been fully reworked. This helps to bring the old model up to standard when talking about the qualities X-Plane 11 now expects as standard.
In the latest release of this model, Version 1.2, users can enjoy access to a Carenado G500 compatible aircraft. For those without the G500, this works with the X-Plane GS430 included in the package, too. A whole new development of the overall sound architecture allows the aircraft to look, fly and sound in conjunction with the standards of X-Plane 11.
What's Included?
Users will gain access to the Carenado G500 add-on, with full features included. From terrain awareness to command over de-clutter levels, water data and terrain mapping, this offers suitable control over various analytical aspects of your flight. You can use this to help make your flight easier to plan, with pristine scroll wheel support and re-sizeable windows making it easy to maintain full visibility.
Within this download, users can make use of the model with 6 HD liveries, as well as a blank livery for custom usage. The Carenado G500 PDF is included for better understanding of using this instrument, too. Various checklists for emergencies and procedures as well as performance tables, references, and recommended settings have been included, too.
Users should find it easy to install, use and optimize the Seneca V to their own needs by using the information provided in each document.
Key Features
The original Seneca V autopilot comes installed for ease of use and authenticity.
Outstanding 4096 x 4096 HD textures helps to paint the perfect picture of the Seneca V itself.
422 pixels/meter texturing allows for a rich and intensive take on a very popular aircraft.
3D gauges make quick reference and real-time reading of aviation factors much simpler.
3D night lighting also makes it easy for pilots to fly in the dead of night.
Original HQ digital stereo sounds come included, with each sound recorded from the real aircraft.
Customizable panels allow for simple control of window transparency, reflection strength, and static elements visibility.
Impressive flight dynamics allows the aircraft to fly in conjunction with reality. Weight and balance are accurately portrayed.
Tested by real pilots stringently to see just how close this is to the real aircraft.
Submit a review of this product
Customers Also Purchased