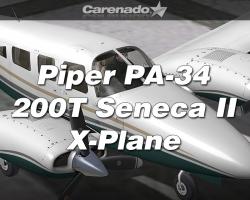 Media Format

Immediate Download

Compatibility

X-Plane 10.40 or higher

File size

116 MB
Now version 3.2.
The fantastic Carenado team have created a stunning model of the Piper PA-34 Seneca, available to X-Plane users with versions 9.6/9.7 and 10.21 or higher. Once again, Carenado have delivered a product with unrivaled attention to detail and a visual model that has been perfectly sculpted to accurately represent its real life counterpart. This package, being the second version of the aircraft to be released by Carenado, offers more features and 64 bit compatibility to make it accessible to even more people. The Piper PA-34 Seneca is a light general aviation aircraft, primarily used, in the real world, for personal and business flying.
The smooth curves of the PA-34 Seneca are accented by realistic light shines and reflections. While simple and clean liveries and a splash of color and style to make this a very attractive aircraft, suitable for any business executive. With the visuals of the aircraft already squeezing everything they can out of the flight simulator software, Carenado took the opportunity to make some more improvements 'under the hood'.
Of the new features, a new prop disc effect creates a feathered visualization, where by the propeller appears wider when spinning at a low RPM and gradually becomes narrower as the RPM goes up. Intelligent visual effects such as this help create a more true-to-life experience. Distinctly different sounds for both idle RPM and high RPM help cement you in the virtual environment and add more depth to your experience. This is achieved by a new integrated sound system that will also alter the way you hear engine and environment sounds in the cockpit, depending on whether there are any doors or windows open.
A new 2D pop-up window offers smooth transitions between all available camera positions and these can be mapped to keyboard shortcuts for your convenience. And innovative new controls for engine levers now allow you to manipulate levers independently using the X and Y axis on your mouse, without interfering with hardware.
If your looking for a twin prop to get started with, you'd have a hard time finding a better aircraft to use to train yourself up. Accurately reproduced flight characteristics mimic the behavior and performance of the real thing and numerous PDF documents outline and explain the various procedures necessary for safe flights and eventual mastery of this aircraft.
New Features:
New Throttle, RPM and mixture control system
Prop disc effect
Cameras and viewpoints change system
Surround and integrated sound system
Features:
Interactive virtual cockpit
IFR certification
Original Autopilot installed
Autopilot Pop Up system
Original HQ digital stereo sounds (22.05 KHz) recorded from the original aircraft
GNS430 installed
Full moving parts: Ailerons, elevators, rudders, flaps, rolling wheels
Animated sections such as: doors, sun visor and copilot seat
Realistic lights: Navigation lights, beacons, landing lights.
Realistic light effects on gauges
3D modeled pilot and cockpit area.
Many details such as: pitot, antennas, chocks, pitot cover, baggage area.
Realistic textures and original paint designs.
Realistic light effects on gauges.
Accurately reproduced flight characteristics
Real weight and balance.
Toggle yoke at VC
Nightlight effects on panel
Included in the package:
3 paint schemes
1 Blank livery
Normal and Emergency Procedures PDF
Performance tables PDF
Reference document PDF
Autopilot PDF
Recommended Settings PDF
Plug-in system readme PDF
Reviews
Itís a marvelous aircraft and all the hours that I flew in this aircraft were very pleasant. Itís beautiful in all aspects and a very easy aircraft to fly. The aircraftís speed is very decent because youíre not getting bored and you also have time to see the landscape and discover the beauty of the scenery around you. With slow speed when landing and great stability and maneuverability itís a very good aircraft even for new pilots.

Analyzing all the features and characteristics of this aircraft, I wholeheartedly recommend this aircraft for pilots that want to start on twin propeller aircraft. This type of aircraft is perfect to test and train your abilities in emergency procedures when one engine fails and there is a need to deal with an asymmetric flight.

If you like Piper aircraft this one is also for you. The panel is very similar to some other Piper models. For example, the Piper PA-28 series has a very similar cockpit and if you already know this one, youíll very easily enter into the spirit of the PA-34. - Aerosoft
Submit a review of this product
Customers Also Purchased