This addon is compatible with
Microsoft Flight Simulator X
. It should also work with
Microsoft Flight Simulator X: Steam Edition
. Some developers have explicitly stated compatibilty with Steam Edition but others haven't. Check the product description below for guaranteed compatibility. Just because it doesn't mention it, this does not mean it will not work with the
Steam Edition
.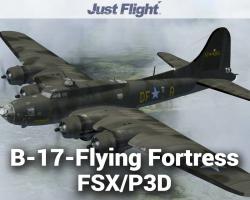 Media Format

Immediate Download

Compatibility

Microsoft Flight Simulator X inc. Steam Edition & Prepar3D

File size

838 MB
Aeroplane Heaven's B-17 collection includes the famous 'Memphis Belle', B-17F25 'Hell's Angels', 'Miami Clipper', 'Blonde Bomber', B-17F30 'The 8 Ball', 'Black Jack', 'Birmingham Blitzkrieg' and 'Wulf Hund', and a fictional B-17F-20 'Bare Metal'.

A massive amount of detail has been included yet frame rates are high for smooth flying on all but the slowest computers. Even the diamond treads are bump-cut into the tyres! A fully functional cockpit includes authentic start procedures and engine management including the turbo-superchargers. You also have a choice of conventional flood or ultraviolet lighting at night.

From the fully detailed nose section to the animated tail-gunner, this package really does do homage to one of history's most illustrious icons and an aviation legend.

HI-FIDELITY MODELS

Hi-fidelity models with a huge amount of authentic detail
High definition 'wear' textures with 'war weary' effects and shading for extra realism
Superbly detailed Wright Cyclone engines
Special blurred propeller textures add 'body' to side view of spinning propellers
Droppable bombs (operated from the cockpit) fall at scale speeds
Manned rotating turrets with gun depression and elevation
Retractable animated waist gunners and opening side gun doors - waist gunners can be configured to fire their 50 calibres
Opening hatches with interior detail
Superb stereo sound pack
Many unique animations including vibrating exhausts and turbochargers
Fully animated crew
Sun splinter effects in the cockpit glazing

IN-GAME OPTIONS

Special configuration panel pop-up allows you to show/hide the turret gunners and bomb-aimer for take-off and landing, adjust your seat position, re-load bombs and more.

NINE LIVERIES AND PAINTKIT

Nine high-definition liveries with special bump effects and accurate, sharply defined nose-art
Pro-quality paintkit enables you to create your own favourite schemes
INCLUDED AIRCRAFT

'Memphis Belle' survived the war and most recently has been taken in for restoration by the United States Air Force Museum. Sadly, the original 'Belle' had been the subject of vandalism over the years and the bulk of her original equipment and fittings removed. However, the Museum with the assistance of the 'Memphis Belle' Association have been able to put her back on track to full restoration to how she was when she arrived in the States for her War Bond tour.

'Hell's Angels' was a B17F-25 and actually completed her 25 missions ahead of 'Memphis Belle'. She was in fact the first 8th Air Force B-17 to do so.

'Miami Clipper' flew back to the U.S in 1944 and 'Blonde Bomber' flew its last mission in January 1944 when it was shot down over Western Germany.

'The 8 Ball'

'Black Jack'

'Birmingham Blitzkrieg'

'Wulf Hund'

Completing the line-up is 'Bare Metal', a fictional B17F-20 finished in unpainted aluminium. Although this never happened for the early models, it gives a taste of how they might have looked fresh from the factory before the drab green was applied.
Submit a review of this product
Customers Also Purchased