This addon is compatible with
Microsoft Flight Simulator X
. It should also work with
Microsoft Flight Simulator X: Steam Edition
. Some developers have explicitly stated compatibilty with Steam Edition but others haven't. Check the product description below for guaranteed compatibility. Just because it doesn't mention it, this does not mean it will not work with the
Steam Edition
.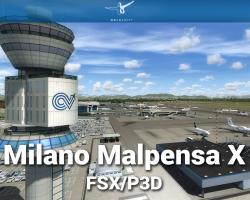 Media Format

Immediate Download

Compatibility

Microsoft Flight Simulator X inc. Steam Edition & Prepar3D including v4

File size

780 MB
Once seen as a European leader of aviation, today Italy is far more barren in relation to its aviation works. However, the Brughiera plains to the north-west of Milano is seen as the cradle of life when it comes to aviation in the country. Milano-Malpensa Airport is easily one of the few airports still standing here today, and this add-on ensures FSX and P3D users can fly her with ease.
Rebuilt and delivered with attention to detail, this airport – the local hub for Italian domestic airline Alitalia – offers a new destination to arrive at. Indeed, as the second largest airport in the country, it demands respect.
Fully improved using tools such as AESLite, the whole airport will feel much more alive and in-depth. This is one of the most important airports in Europe: by improving everything from texture quality to apron traffic, the whole area will fee as busy as it should have upon release.
This add-on will make sure you can fly here and enjoy as detailed as 0.5m/pixel detail across the board. Also, airport building layouts and styles have been chosen based in extensive research of the airport itself. New and improved changes across the board will ensure that you can fly to an airport that now feels as big, busy and detailed as it should have upon release.
What's New?
New and improved models used across Milano-Malpensa Airport to help ensure it feels more in-line with Italian airport design.
May new models and features included helping make the whole airport feel much busier, including the new control tower and Terminals 1 & 2.
Seasonal 0.5m/pixel scenery helps to make sure the whole airport feels much more detailed from start to finish.
New animations were included, too, with add-ons such as animated radars, trains and airport service vehicles moving around the airport to show how busy it is.
Approach lighting has been worked upon and improved massively to help ensure you have no problems with regards to visibility when you arrive.
New ground signage and layout ensures that the whole airport feels both in scale and in the right location.
Fresh new autogen made from scratch to ensure the whole airport looks much more realistic and in line with the Italian countryside.
Impressive new landclass data included for perfect integration with useful add-ons such as ORBX to help improve how Milano-Malpensa Airport looks.
AESLite capabilities provided.
Submit a review of this product
Customers Also Purchased