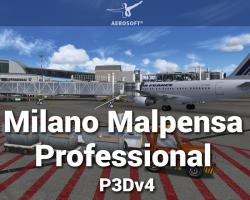 Media Format

Immediate Download

Compatibility

Prepar3D v4 & v5

File size

2 GB
While Milan might stand as the capital of fashion across Italy and even Europe, the Brughiera plains to the northwest of Milano is the house of Italian aviation. Itís also the location where you can fly to if you wish to visit the hugely popular Milano-Malpensa Airport. Itís one of the few airports still standing in the region and is the second-largest airport in the whole of Italy.
The home of Alitalia, the major aviation firm for Italy, Milano-Malpensa is a truly important airport for Italy and the Iberian Peninsula as a whole. However, fly there in P3D v4 and v5, and you might be shocked at the negligence of such a historical airport. This add-on looks to correct that problem, adding life to the airport where previously little existed.
This is a detailed recreation, using impressive 0.5m/pixel resolutions to deliver on a rich, highly detailed airport. Itís got a fantastic array of new buildings, all covered in the most correct and accurate lighting possible. The end result is an airport that is in-scale with reality, and also maintains much of the buildings and functions of the airport. With a whole host of new SODE jetway animations, too, this is an airport that finally feels alive once again.
Whatís New?
New and improved coding to make sure Milano-Malpensa works well with P3D V4 SDK.
Fresh dynamic lighting ensures new shadowing techniques can stand out better than before.
Impressive ground layout changes all fit in accordance with P3D V4/V5 SDK regulations.
Detailed surfaces below and around the airport makes compatibility with other mods like FS Global Ultimate mesh possible.
All airport objects are made from the correct materials and placed accordingly.
Vehicles combined and draw calls optimized for the best performance.
3D grass included which changes shape and condition with the seasons.
New taxiway lighting corrected and made switchable or removable at your own choice.
3D runway and approach lighting which will change depending on the weather.
AIRAC 1803, AFCAD optimized airport.
New models included helping add extra life and individualism to Milano-Malpensa.
The scenery can easily be registered using the add-on.xml tool.
Easy and simple to set up and ready for your own personal use and needs.
Whatís Included?
0.5m/pixel ground textures and scenery, with authentic changes related to the season.
A whole host of new and improved buildings, including terminals and control towers.
Impressive new animated jetways further improved with the use of SODE.
Aprons are included with accurate ground signage, making sure navigation is easy.
Autogen that fills in the whole airport and makes Milano-Malpensa feel alive.
Landclass data used which is perfect for use with ORBX if you so choose.
Animated radars, trains, and other airport vehicles add life and energy to the airport.
Realistic approach lighting that looks outstanding and brings the airport to life.
∑AESLite compatibility.
Submit a review of this product