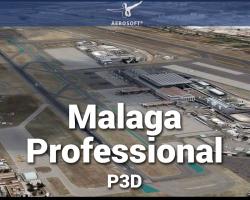 Media Format

Immediate Download

Compatibility

Prepar3D v4 & v5

File size

2.8 GB
When people think of a trip to the Costa del Sol, one of the first – and best – places to arrive is via Airport Malaga. This takes this rich part of Andalusia and makes sure that it truly matches up with the quality, class, and grandeur of the real thing with very little issue whatsoever. Thanks to the highly detailed nature of this P3D add-on, you can make sure that every trip to Malaga is accompanied by a fair take on the airport which is much more like the real thing.
It's a fantastic take on the airport, making sure that they fully capture the richness and heart of the entire arena. with an impressive 0.5m/pixel solution provided, this gives you a very high-resolution solution that looks great, with all manner of hand-placed objects helping to further diversify this airport.
The new changes also include a new SODE animated jetway. This looks great alongside the plethora of new static objects. Add in the new high-resolution AFCAD data and the 3D approach lighting improvements, and it's easy to see why a trip to Malaga might just become a touch easier to enjoy if you choose to use this add-on.
Easily adapted and changed, too you can set up your own take on Malaga Airport with regards to the limitations of your hardware.
Key Features
Everything is made and adapted using the P3D v4/v5 SDK; this allows for the best performance and high-quality optimization of the engine.
Optimized for shadow technology and impressive designs that look outstanding.
Ground layouts and textures come with the intention of filling in the blank spots in the airport whilst ensuring it's compatible with add-ons such as ORB FTX Global Vector.
180km2 of impressive satellite imagery making sure that Malaga and the airport both come to life and look the very best that they can.
Autogen and city objects stand out, giving you a much more realistic take on the city and making it much easier to fully appreciate the richness of its layout.
Animated jetways, aircraft parking, and static vehicles all litter the city. Buses, baggage carts, and the like move around, too, making sure that the whole airport feels more alive.
3D lighting on the runway as well as impressive time and weather conditioning makes it very easy for you to get the best possible performance from your trip to Malaga.
High-quality vehicles that come with both feeder and apron included (AESLite) for the best possible experience.
Submit a review of this product