Beechcraft Mentor T34B for FSX/P3D

2 reviews

This addon is compatible with
Microsoft Flight Simulator X
. It should also work with
Microsoft Flight Simulator X: Steam Edition
. Some developers have explicitly stated compatibilty with Steam Edition but others haven't. Check the product description below for guaranteed compatibility. Just because it doesn't mention it, this does not mean it will not work with the
Steam Edition
.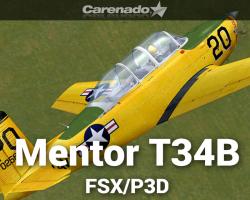 Media Format

Immediate Download

Compatibility

Microsoft Flight Simulator X inc. Steam Edition & Prepar3D v2, v3, v4, v5*

File size

35 MB
*Fully compatible with P3Dv5 however please follow the installation instructions here.
Once again, Carenado has developed a stunning add-on package for Microsoft Flight Simulator X, this time in the form of US Navy trainer: the Beechcraft Mentor T34B. With a tandem cockpit, this single-engined prop aircraft was used by the US Navy for training purposes up until the early 1970's. Now that Carenado has introduced the T34B into the world of FSX, making sure to accommodate SP2 and Acceleration users, it can be re-purposed for use however you see fit, be that sightseeing or stunning aerobatics.
Two different polygon optimized models are included in this package, a two-blade, and a three-blade propeller. High quality, optimized models like these retain great detail and accuracy, while helping to mitigate any strain on performance. The models are made even more attractive by fantastic mapping, that is used to create realistic lighting, reflections and dynamic shadows that make the aircraft come to life while flying over the landscapes below. On top of that, advanced bloom effects can come in to offer a more cinematic experience. Three liveries, in particular, the bare metal variation, play a vital role in facilitating these wonderful visual effects. A host of moving parts, from fully animated cockpit doors and cargo, to ailerons, elevators and even a moving pilot, flesh out the aircraft and solidify its place in the simulated environment.
Inside the interactive virtual cockpit, you'll find two available cockpit areas, each complete with custom panels and gauges. Nightlight effects in the cockpit reveal great internal dynamic shadows on the panels and interior environment. The cockpit, effectively being one big window, allows you to take in some spectacular sights regardless of which seat you happen to be in. The T34B is potentially a great aircraft for sightseeing.
The T34B's flight dynamics have been carefully calculated to reflect Beechcraft's own documents, as well as pilots observations and experiences. Needless to say, this version of the T34B both behaves and feels very much like it's true-life counterpart. With all parts working together, visuals, sounds and a genuine feel, Carenado's Mentor T34B is a solid, fun aircraft that can take on many roles.
Features
Full FSX, P3D v2, v3, v4, and Steam compatible.
Polygon optimized model
Tandem seating trainer
Registration N9220T and NAVY 0256
Amazing aerobatic model with many details and realistic textures
Full moving parts: moving pilot, full animated cockpit doors and cargo, ailerons, elevators, rudders, flaps, rolling wheels, smoke effects
Realistic nightlight effects on cockpit
Many details as: pitot pressure chamber, antennas, cargo compartment objects
Realistic textures and original Mentor paint design
Custom panel and gauges
Old IFR certification (ADF) and VFR
Nightlight effects on panel
Similar behavior compared with the real airplane
Real weight and balance
Included in the package:
3 paint schemes: Metallic, Navy and FAE
2 models: two and three blades
Normal and Emergency Checklist
Panel Info
Performance tables
Customer Reviews
Rated 5.0/5.0 based on 2 customer reviews
11/29/2019

5

/

5

Verified Purchase

My review is the same wrote reciently. Very nice plane and easy to Fly. Very friendly in its maneuvers and Flight mode. I like it very much. Regards.

German.
11/20/2019

5

/

5

Verified Purchase

Realy a great airplane and easy to fly. Very nice and friendly. I love it.

Regards,

German.
Submit a review of this product
Customers Also Purchased