Free ATR 72 Series for FSX/P3D/FS2004

16 reviews

This addon is compatible with
Microsoft Flight Simulator X
. It should also work with
Microsoft Flight Simulator X: Steam Edition
. Some developers have explicitly stated compatibilty with Steam Edition but others haven't. Check the product description below for guaranteed compatibility. Just because it doesn't mention it, this does not mean it will not work with the
Steam Edition
.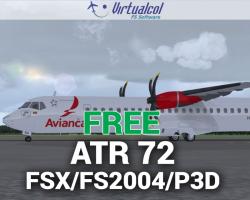 Media Format

Immediate Download

Compatibility

Microsoft Flight Simulator X, Microsoft Flight Simulator X: Steam Edition, Prepar3D (all versions including v4), Microsoft Flight Simulator 2004

File size

85 MB
Also released as freeware (used to be payware) from Virtualcol is their ATR 72 package that runs on FSX, FSX: Steam Edition, P3D (all versions including v4) and the older FS2004.
This package has all of the features you can expect from a payware add-ons such as a detailed manual, full 3D virtual cockpit (VC), over 37 paints but it is now free!
The package comes with over 37 different repaints for the ATR 72 model which include many real-world airlines. Also included is a paint kit so you can create your own freeware repaints easily and apply them to the model.
The package includes various models of the ATR 72 such as the 200, 210, 210F (which is a cargo model). Also included are animated ground service vehicles to make your simulation experience more realistic.
Full pack ATR 72 series including models with virtual cockpit, turboprop sound, functional gauges, user manual, five models Series -200 -210 -210F (cargo) -500 and -600, ground service and 37 repaints for models.
Development and donated as freeware by VirtualCol FS Software.
If you like this freeware package, please do post a review below. Or simply post your comments as a review.
Customer Reviews
Rated 4.0/5.0 based on 16 customer reviews
04/27/2019

4

/

5

Verified Purchase

I downloaded the FSX version. The download was quick and faultless. Unzipping the file was easy and the supplied installation programme made everything very quick and easy. Having spent just over an hour flying this plane my review naturally is limited - especially as I'm not a fan of virtual cockpits so I only used the supplied 2D cockpit panels. I am impressed by the quality of the graphics, paint schemes, sound quality and flight characteristics. It might be the way my FSX has been set up, but the "mouse-over tool tips" were missing which made life difficult at times and almost impossible sometimes due to the very small readouts from the gauges. For a totally free download, these are criticisms which are a bit picky but these and more would be fully justified if I had paid for this - in fact I would have been demanding a refund. Download it, fly it and enjoy it.
05/25/2019

4

/

5

Verified Purchase

It's amazing freeware. It looks like an ATR cockpit, has many of the controls it has, and it has a very good autopilot. The FMC and the manual's grammar could be better, as it is quite hard to do a flight plan with VNAV, but LNAV is fine, especially if you follow ATC. This plane is great for people who have mastered the default planes and want to move on to something new and add more controls. This plane also works with fsairlines client, so it is very easy to configure your payload and fuel. For people into looks, the 37 liveries are very good, and each model has a good amount. Some of my favourite features are the custom ground crew and autofeather. However a lot of the overhead panel switches don't work in the virtual cockpit.
04/27/2019

4

/

5

Verified Purchase

Nice appearance, even in DX10 Preview mode. Flies easily & as expected. Nice engine sounds. It doesn't slow down the frame rate. Gauges a bit difficult for me to read in 2D or Virtual Cockpit. GPS Map sometimes gets lost behind the panel. ( I use 1152 x 864 resolution with Antialiiasing on an nVidia GT730 with an Intel Core 2 Quad @ 3 Ghz. Windows 7 64 bit with 8 GB RAM. )
05/12/2019

5

/

5

Verified Purchase

I ve selected the one for fs 2004 JUST FANTASTIC / IS REALLY GOOD WHEN THE ARCHIVES COME IN A "INSTALL EXE" MODE NO NEED TO OPEN FILES, ZIPS, WINRARS ETC. . SIMSHACK SEEMS TO BE AN AMERICAN COMPANY DUE THE SATISFACTION OF THE CUSTOMER , IN THIS CASE MYSELF

REALLY HAPPY WITH YOUR PRODUCTS / CONGRATULATIONS

YOU WON A CUSTOMER FOR SURE ALBERT ALDANA
04/27/2019

3

/

5

Verified Purchase

I like the aircraft as to flight dynamics but one thing that could be better is the realsim of the cockpit. With other companies the interior looks quite real but not here. Actually it looks a great deal like the free wear cockpit found in freeware downloads.

Thank you for allowing me to do this review.

Dr. Johnny Ashburn
04/28/2019

2

/

5

Verified Purchase

I downloaded the free ATR-72 software. It won't run on FSX Steam Edition. Tried installing it several times and in different ways, but it won't install. Anyone have any ideas or suggestions on how to get it to work? All help appreciated.
04/29/2019

5

/

5

Verified Purchase

Fast download, easy installation, first flight tests very satisfactory. We are not far from the Flight One ATR 72-500. In addition there is an easy to use paintkit. In short, it's perfect! Thank you very much for this gift.
04/27/2019

5

/

5

Verified Purchase

High quality sim, easy to install and flight characteristics are good. Virtual cockpit looks good but you can't see over the top, so I prefer the cockpit view, not as realistic but better view fo fly with.
04/28/2019

5

/

5

excellent plane I have traveled a lot in the airline satena that has this type of plane with the opportunity to see the cabin and is very detailed like the one with this free product.
04/26/2019

1

/

5

Both the ATR 42 as well as the ATR 72 loaded to my P3Dv4 show black instruments as if gauges where missing. Wonder if somebody has same problem
04/27/2019

5

/

5

Verified Purchase

I bought the ATR for FSX so could not miss the opportunity of getting it free for P3D Thank YOU Sim Shack Rob
04/27/2019

5

/

5

Verified Purchase

Wow! What a stunning product. Just did a few circuits and was very impressed with all the features. Well done!!
05/04/2019

2

/

5

Verified Purchase

Sorry, this is not what I was looking for. I was looking for single engine "cessna" or other GA aircraft.
04/28/2019

4

/

5

Verified Purchase

Good plane I tested it with P3d we hope it goes well I will let you know
04/29/2019

5

/

5

Verified Purchase

Great plane, and the user's manual is good, have enjoy flying it
07/11/2019

5

/

5

Verified Purchase

This one of my best aircraft, Great graphics an super nav aids.
Submit a review of this product
Customers Also Purchased