This addon is compatible with
Microsoft Flight Simulator X
. It should also work with
Microsoft Flight Simulator X: Steam Edition
. Some developers have explicitly stated compatibilty with Steam Edition but others haven't. Check the product description below for guaranteed compatibility. Just because it doesn't mention it, this does not mean it will not work with the
Steam Edition
.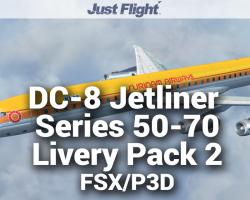 Media Format

Immediate Download

Compatibility

Microsoft Flight Simulator X inc. Steam Edition & Prepar3D (all versions including v4) AND DC-8 Jetliner Series 50 to 70

File size

370 MB
Please note, this is an expansion for the DC-8 Jetliner Series 50 to 70 by Just Flight - you must have this product installed first.
For anyone who owns the DC-8 Jetliner Series 50 to 70 package by Just Flight, this new addition provides a whole host of liveries. With new liveries for seven aircraft, this offers extra distinction and individuality to each of the aircraft. Each of the seven aircraft will enjoy at least two new liveries, coming from popular civilian backgrounds across the world.
From LOT Polish Airlines to Trans International, you will find all manner of useful new liveries to work with. Whether for completionism or for roleplaying needs, new liveries always add to your options. Now, you can make use of the DC8 range of aircraft with a whole host of new livery designs. These all come made from a much higher standard of resolution, with right and detailed textures.
However, those who have struggled with performance can use the Performance Configuration Tool. This allows you to easily reduce the texture scaling to help produce a more even level of performance. Alternatively, those with higher spec hardware can easily push the textures to the maximum and enjoy crisp, clear liveries for seven DC8 aircraft.
For those who own the DC8 Jetliner series by Just Flight, this adds twenty new and authentic liveries for your use as and when you wish. From rich and vibrant liveries to simple and smooth, this second of two livery packs made a considerable difference to your options.
What's Included?
DC-8-53. Aviaco – Gold livery (Iberia) (EC-ASN), Lufthansa (N8008D) and Trans International (TIA) (N8008D).
DC-8-55 Jet Trader. British Cargo Airlines (G-BDDE) and Saturn Airways (N8008F).
DC-8-61. Spantax (EC-CZE) and Trans International (N861FT).
DC-8-62. Alitalia (I-DIWN), Arrow Air (N8968U), LOT Polish Airlines (N8968U) and Pacific East Air (N39307).
DC-8-63. Air Canada (C-FTIU), Surinam Airways (KLM – Royal Dutch Airways) (PH-DEM) and Thai Airways International (HS-TGY).
DC-8-63CF. Flying Tigers (N793FT). Loftleidir – Icelandic Airlines (TF-FLA) and Saudia – Saudi Arabian Airlines Air Cargo (N865F).
DC-8-73F. BETA Cargo (PP-BEL), Emery Worldwide (N791FT) and German Cargo (D-ADUA).
Submit a review of this product
Customers Also Purchased