This addon is compatible with
Microsoft Flight Simulator X
. It should also work with
Microsoft Flight Simulator X: Steam Edition
. Some developers have explicitly stated compatibilty with Steam Edition but others haven't. Check the product description below for guaranteed compatibility. Just because it doesn't mention it, this does not mean it will not work with the
Steam Edition
.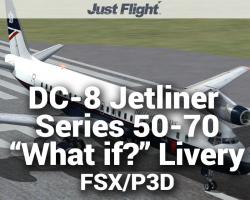 Media Format

Immediate Download

Compatibility

Microsoft Flight Simulator X inc. Steam Edition & Prepar3D (all versions including v4) AND DC-8 Jetliner Series 50 to 70

File size

370 MB
Please note, this is an expansion for the DC-8 Jetliner Series 50 to 70 by Just Flight - you must have this product installed first.
Realism always plays a role in making aviation more enjoyable. For those who are fans of the DC-8 family of aircraft, this stylish and engaging 'What If' livery package is a must-have.
By throwing together some very popular looking liveries, this expansion pack for the Just Flight DC-8 Jetliner package really adds a whole new level of choice to comb through.
This is a very popular livery collection, delivering high-quality liveries designed to faithfully match-up with the classic DC-8 aircraft. It's a fine choice for those looking for a different kind of aviation livery.
This offers new livery designs which are all based on globally popular airlines who never use(d) the DC-8 family.
In total, you'll pick up 20 new add-ons that cover numerous members of the DC-8 family of aircraft. from the classic 55 Jet Trader to the 73F, you will get to pick from new liveries of eight different DC-8 aircraft.
You'll be able to pick from all manner of choices, from richly detailed and impressive military aviation options to the likes of Atlas Air, Iraqi Airways and Air Berlin.
Now, you should have no problem in making your DC-8 fit with even the most particular of role-play experiences as you move forward.
A must-have for all owners of the original DC-8 Jetliner Series 50 to 70 by Just Flight!
What's included?
In this package, you get access to a variety of interesting and unique liveries based on the DC8 Jetliner series package. You can expect to find popular aircraft liveries to fly around in, including:
DC-8-53. Aeroflot, British Airways - Landor style and Qantas.
DC-8-55 Jet Trader. British Caledonian and Iraqi Airways.
DC-8-61. American Airlines, BOAC and Malaysian Airline System.
DC-8-62. Air Berlin, Air France and Aer Lingus.
DC-8-63. USAF - Air Force One, British Airways – World Tail (Scotland) and Northwest Airlines.
DC-8-63CF. LTU, PIA Pakistan International Airlines, and the Royal Air Force
DC-8-73CF. Heavylift Airlines and FedEx
DC-8-73F. Atlas Air
Submit a review of this product