Free ATR 42 Series for FSX/P3D/FS2004

18 reviews

This addon is compatible with
Microsoft Flight Simulator X
. It should also work with
Microsoft Flight Simulator X: Steam Edition
. Some developers have explicitly stated compatibilty with Steam Edition but others haven't. Check the product description below for guaranteed compatibility. Just because it doesn't mention it, this does not mean it will not work with the
Steam Edition
.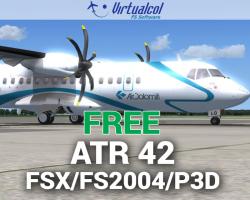 Media Format

Immediate Download

Compatibility

Microsoft Flight Simulator X, Microsoft Flight Simulator X: Steam Edition, Prepar3D (all versions including v4), Microsoft Flight Simulator 2004

File size

80 MB
This is the previously payware ATR 42 model from Virtualcol.
This software used to be payware however, Virtualcol has released this package as freeware to the community. It's a great package that features a solid ATR 42 model for FSX, FSX: Steam Edition, Prepar3D (including v4) and FS2004. The package also includes over 37 repaints for various real-world airlines.
The package includes a fully custom virtual cockpit (VC) along with the many features such as a user manual, fully functional gauges - everything you can expect from a payware product.
SimShack is able to provide this package to you thanks to our arrangement with Virtualcol.
The package also includes a repaint kit so you can create your own freeware repaints to work with this amazing model.
Full pack ATR 42 series including models with virtual cockpit, turboprop sound, functional gauges, user manual, four models Series -320 -320F (cargo) -500 and -600 and 37 repaints for models.
Development and donated as freeware by VirtualCol FS Software.
If you like this free version, please post a review below or simply let us know your comments regarding this add-on in the review section below.
Customer Reviews
Rated 4.6/5.0 based on 18 customer reviews
04/27/2019

4

/

5

Verified Purchase

Hello SimShack , This is an excellent free download for the ATR 42 for FS 2004 . The out appearance of the various of the various livries are well done It comes with a pdf checklist and operating manual for the flight computer as well as the various switches. The auto pilot is a little difficult to understand but has alot to do with my computers screen as the virtual cockpit can be magnified to clearly read all guages and switches. The ATR 42 model has very forgiving flight characteristics and handles and flyies well . Trimming the airplane also is easy to do. One item I notices is the C of G is showing way forward of the c of G zone but does not show in the flight chracteristics. opening the fuel and load section shows only 1 load point so I imagine it is not adjustable. The fuel however is fully adjustable. Inflight sounds are good in all views and the engine shutdown sounds are very realistic . propeller animation is also good. in this package there are 2 main control panels both virtual cockpit and 2d cockpit as the package addresses 3 different versions on the ATR 42 depending on the airlines requirement. to sum up you can't go wrong as it is getting harder to find aircraft that run in FS 9 , and I imagine the FSX and P3D versions are better yet. Thanks Virtualcol and Simshack
04/27/2019

4

/

5

Verified Purchase

I downloaded the FSX version. The download was quick and faultless. Unzipping the file was easy and the supplied installation programme made everything very quick and easy. Having spent just over an hour flying this plane my review naturally is limited - especially as I'm not a fan of virtual cockpits so I only used the supplied 2D cockpit panels. I am impressed by the quality of the graphics, paint schemes, sound quality and flight characteristics. It might be the way my FSX has been set up, but the "mouse-over tool tips" were missing which made life difficult at times and almost impossible sometimes due to the very small readouts from the gauges. For a totally free download, these are criticisms which are a bit picky but these and more would be fully justified if I had paid for this - in fact I would have been demanding a refund. Download it, fly it and enjoy it.
05/13/2019

3

/

5

Verified Purchase

Thank you for offering this aircraft as freeware. I don't want to seem ungrateful, but this is my honest opinion. In terms of the aircraft, the 2D panel is OK in so far that it's easy to follow and use. The textures are 'flat' though. The VC is a different matter. It looks very unreal and again the texturing is almost none existent. Difficult to read some of the gauges too. The sound is OK, but it lacks depth. The plus side is that there are plenty of liveries but they look too clean. I like liveries to look 'used,' that's a personal preference however. I have to admit, if I'd paid for this model, I would've been disappointed. Thanks for the opportunity to download and comment on this plane.
04/28/2019

5

/

5

Verified Purchase

I think that we should thank both SimShack and Virtualcol for this great gift. The plane has all of its features working, nice VC, and a variety of different models and airlines
04/27/2019

5

/

5

Verified Purchase

I bought the VA ATR 45 payware version for FSX and have enjoyed it immensely so could not miss the chance of getting it for free for P3D, THANK YOU very much SIM SHACK Rob
05/12/2019

5

/

5

Verified Purchase

Had issues with install, im used to it being more complicated but all is well now!

Easily my favorite to fly. Beautifully detailed. Thank you simshack and Virtualcol!
04/26/2019

5

/

5

Verified Purchase

Seamless install to MS FSX (steam). The acft has excellent detail and flight characteristics are accurate. It came with three paint schemes that are all excellent.
05/05/2019

5

/

5

Verified Purchase

Letters on the instrument panel are too small although I believe this is the right proportion on the instrument panel.
04/26/2019

5

/

5

Verified Purchase

Very good gift, and works excellent.I work very well in PREPARD3D V4. Your details are very good
04/28/2019

5

/

5

Verified Purchase

execelent ATR42, and thank you for free version, beautiful plane and excelent control
05/28/2019

1

/

5

Verified Purchase

Installing in P3D v.4.5 went smooth, but when I started up P3D the sim crashed!!
04/28/2019

5

/

5

Brilliant plane to have. Very good and and good detail. Thank you very much.
04/27/2019

5

/

5

Very nice plane. I will enjoy it. I like the gift and many thanks.
07/04/2019

5

/

5

Verified Purchase

Have only used it once but am most impressed! Superb authenticity!
04/26/2019

5

/

5

Verified Purchase

It's nice to have this aircraft back into my hanger again
04/26/2019

5

/

5

What a beautiful plane and then as a gift. Thank you.
04/27/2019

5

/

5

Verified Purchase

I am impressed! Also about the ease of installation!
04/27/2019

5

/

5

Verified Purchase

Perfect !!! Great !!! Impressive !!! Inspiring !!!
Submit a review of this product
Customers Also Purchased