Beechcraft F33A Bonanza for FSX/P3D

4 reviews


This addon is compatible with
Microsoft Flight Simulator X
. It should also work with
Microsoft Flight Simulator X: Steam Edition
. Some developers have explicitly stated compatibilty with Steam Edition but others haven't. Check the product description below for guaranteed compatibility. Just because it doesn't mention it, this does not mean it will not work with the
Steam Edition
.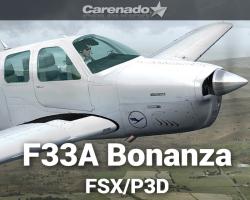 Media Format

Immediate Download

Compatibility

Microsoft Flight Simulator X inc. Steam Edition and Prepar3D v2, v3, v4, v5*

File size

73 MB
*Fully compatible with P3Dv5 however please follow the installation instructions here.
Looking to take your Microsoft Flight Simulator X experience to new heights? Well, look no further than the Beechcraft F33A Bonanza!
This model is ready to go, and even includes a customizable texture, giving you total control over your flight experience. Additionally, the Beechcraft F33A Bonanza model is set with the real physics of the actual aircraft.
Modeled after a true aircraft, it is sure to provide a realistic and satisfying flight experience within Microsoft Flight Simulator X. The panels also react to night effects, for a full and robust flight experience.
The Beechcraft, as an aircraft of its time, was one of the first to bring in features which up until then had only been seen in wartime. Thus, the Beechcraft F33A Bonanza is a game changer in the world of aviation, and certainly worthy of any aircraft enthusiast's collection. Especially considering the meticulous attention to detail that this model for Microsoft Flight Simulator X contains, it is well worth its price.
Many other flight models are more expensive, but it is important to realize that this model isn't just better from a pure price point comparison. The Beechcraft F33A Bonanza is an incredible work of aircraft, and it is a treat to soar through the simulated skies in this plane.
With the rich history behind this aircraft, this is more than just another flight model. Adding this model to your collection in Microsoft Flight Simulator X is adding a piece of history, a monument of the aviation world, and the model handles realistically, as would be expected by any other model included in Flight Simulator X.
With behaviors based on the original aircraft, you are sure to get an accurate and enjoyable experience with the Beechcraft F33A Bonanza. Carenado's Beechcraft F33A Bonanza is an iconic piece of aviation history, and well worth the purchase.
Manufacturers Description
This package includes a very highly detailed Beechcraft Bonanza F33A for Microsoft Flight Simulator X. Carenado have produced this aircraft in extremely high detail to match the real life version of the aircraft. They have included many 3D features and lots of animated parts to make your flight in the Bonanza even more realistic. This is one of the best Bonanza packages there is for FSX.
Four different paint schemes plus a blank texture. 3 different models: 2 yokes, 1 yoke and one interior model without 3D knobs (for customizing the VC). Original GNS 430 included. Realistic night lights effect on virtual cockpit. Original HQ digital stereo sounds recorded from the original aircraft. Alternative textures for no tinted windows
Features
external dynamic shadows, internal dynamic shadows on VC, volumetric normal mapping, specular mapping and bloom lights
Polygon optimized model
Friendly FPS
Control windows to control eyes candies (wheel chokes, bags, pitot cover, and sights prop)
Autopilot installed
Pop up F33 Bonanza manual with performance charts and normal & emergency procedures and check list
Includes
Interactive virtual cockpit
Full moving parts: Ailerons, elevators, rudders, flaps, rolling wheels and trim tab
Animated sections such as: propeller, doors, windows
sun visor, copilot seat, vibrating antenna, cowl flaps, pilot and exhaust pipe
Lights: Navigation lights, landing and taxi lights - 3D modeled pilot and cockpit area
This model doesnít have a 2D panel
Realistic light effects on gauges
Nightlight effects on panel
Separate switches for instruments lights and dome light
Toggle yoke
Real behavior compared to the real airplane
Real weight and balance
PDF documents: Normal and emergency procedures, check list, GNS430 User Guide, AVSS manual and VC diagram.
Review
" I would call this one a MUST HAVE...so good I would almost buy it twice. 5 star all the way!!..." - FlightSim
Customer Reviews
Rated 4.5/5.0 based on 4 customer reviews
12/21/2015

5

/

5

I picked this up in the sale for an absolute bargain and I couldnít be happier. If I had the chance to fly it before-hand, on sort of a trial period, I think I would have been happy to pay full price for it. Granted, this is the first Carenado product that Iíve bought, and I know that they do great stuff, based on what Iíve read - so maybe Iím just enamoured with this F33A because itís my first experience with top of the line payware.

The model itself is stunning, I donít have any other aircraft in my hangar that match the level of detail that this thing has. The texture mapping is amazing, making even the smallest of details seem prominent. Gorgeous reflections on the glass and light playing over the panels adds a degree of realism that is unmatched by anything else Iíve flown. Through my first start up sequence, I was really pleased with the quality of the sound package; itís very authentic, or at least it feels like it is, Iíve not actually heard an F33A in real life. But the fact that it makes me think it is the real thing, is surely a testament to how good the sounds are. They work wonders in bringing a depth and texture to the aircraft, creating an almost tangible recreation of this wonderful Beechcraft.

On the inside, everything is just as polished. The realistic lighting effects and the highly detailed panel make the cockpit really atmospheric and actually pretty cosy. Again, I havenít actually flown one of these, so I canít confirm that the flight dynamics are accurate, but this F33A certainly behaves and performs like it seems it should. Which is enough to keep me immersed almost indefinitely. The other contributors to immersion, are the smaller details that always seem to get overlooked, like vibrating exhausts and working sun visors.

Itís very easy to let yourself completely commit to the experience that this aircraft offers; Iíve had a lot of fun and spent many hours getting familiar with the ins-and-outs, building up my confidence. This is the first aircraft in a long time that I keep wanting to come back to; whether you catch it on sale or not, I think this one is definitely worth checking out.
01/06/2020

5

/

5

Verified Purchase

What a blast!! This little bird SIPS fuel at a rate comparable to some LSAs I have flown. 150kts at 8,500ft and 8gal an hour? shoot I'll take that any day of the week, twice on Sunday. The airplane just wants to fly, that is the best way I can describe it. the Pitch and yaw tendency when you go full throttle is nothing in this aircraft like it would be in a 172 or even an Archer. Find your desired cruise speed and height, trim it right and this bird will fly itself, no autopilot needed, with MINIMAL input from you to keep her that way. That to me, is a damn perfect aircraft. Very friendly on the landings, excellent frame rate with no lag even on my older machine, and excellent functionality of all the gauges and switches. still getting familiar with this Garmin setup, but for now it does the job and gets me where I want to go. I highly recommend this one for the General Aviation enthusiasts.... I was just going to test fly it after it finished downloading.... that turned into a 2 hour leisure trip around Las Vegas and part of the Grand Canyon.... and I barely used a quarter of my fuel to do it!!
08/14/2020

3

/

5

Verified Purchase

P3Dv4.5 I am a former Beech F33A/A36 pilot. I am a little bit disappointed. Many things don't work correctly. 1-the taxi and landing lights don't work (very tiny lights). Same for the beacon (anticllosion light), it doesn't turn. A tiny blinking). 2- the selection altitude mode doesn't work on the panel. 3- the engine parameters don't look like real according to the speed, the flaps (mode approach) 4- the taxiing movements are not very real. (floating movments) 5- the GPS doesn't work correctly

But the design of the plane and the cockpit are success. If you have much money, choose the A2A Bonanza V35
11/21/2019

5

/

5

Verified Purchase
Submit a review of this product
Customers Also Purchased