Beechcraft Bonanza V35B for FSX/P3D

1 reviews

This addon is compatible with
Microsoft Flight Simulator X
. It should also work with
Microsoft Flight Simulator X: Steam Edition
. Some developers have explicitly stated compatibilty with Steam Edition but others haven't. Check the product description below for guaranteed compatibility. Just because it doesn't mention it, this does not mean it will not work with the
Steam Edition
.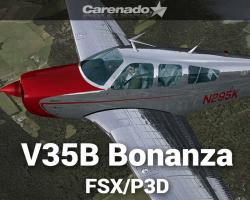 Media Format

Immediate Download

Compatibility

Microsoft Flight Simulator X inc. Steam Edition and Prepar3D v2, v3, v4, v5*

File size

62 MB
*Fully compatible with P3Dv5 however please follow the installation instructions here.
Carenado have once again pulled out all the stops in the development of this V-Tail Bonanza and have created an add-on package that is full of great features and well crafted 3D elements. This add-on is available as in immediate download and made available for users of Microsoft Flight Simulator X and Prepar3D.
It's worth mentioning also, that you get two models in this package, one with tip tanks and one without. Both are of high quality and incredibly detailed, you can look as close as you want and see rivets and panels, and no imperfections. The four included liveries are attractive and do a great job accenting the plane's design. Utilizing superb maps, Carenado have been able to produce shines, reflections and dynamic shadows that are almost hyper-real, all the while putting no unnecessary strain on your frames per second. Carenado also offers you the opportunity to make your own work look as good as theirs, by including a blank texture plate for you to work from while creating your own custom liveries. Their intelligent texture work extends to the virtual cockpit, that features internal dynamic shadows, as well as plush leather seats and custom wood inserts. Realistic night light effects on the virtual cockpit add yet another level of polish and depth to this fine reproduction of the Beechcraft Bonanza V35B.
Carenado know that smaller details can be very important when creating a full 3D experience, and have made a habit of always getting these smaller details just right. An example being the stickers on the windows that help create a division between you and the outside environment, more so than if it were just plain old glass. Or moving parts, aside from the usual parts that you would expect, like the vibrating antenna and exhaust pipe. Completely immersing yourself in your simulator environment is so easy in this aircraft, as it does all the heavy lifting. Accurate flight dynamics mean that the aircraft behaves how it does in the real world, and the weight and balance of the aircraft match that of its real-life counterpart. It is truly stunning and immense fun to fly, and is certainly worth considering for a permanent place in your virtual hangar.
Now released from Carenado is their stunning model of the Beechcraft V35-B Bonanza for FSX and Prepar3D. This aircraft add-on package includes many great features and advanced 3D modeling pieces.
Four different paint schemes plus a blank texture
2 different models: with and without tip tanks. Original GNS 430 included
Original HQ digital stereo sound recorded from the original aircraft
Customizable panel for controlling, windows transparency, 3D Knobs and Eyes candies (wheel chokes, pitot cover and sights prop)
Original V35 cockpit with leather seats and custom wood inserts on interior wall panel
FSX features
external dynamic shadows, internal dynamic shadows on VC, volumetric normal mapping, specular mapping and bloom lights
Realistic night lights effect on virtual cockpit Polygon optimized model
Friendly FPS
Autopilot installed
Pop up V35 Bonanza manual with performance charts, normal & emergency check list
Includes
Interactive virtual cockpit
Full moving parts: Ailerons, elevators, rudders, flaps, rolling wheels and trim tab
Animated sections such as: propeller, doors, windows
sun visor, copilot seat, vibrating antenna, cowl flaps, pilot and exhaust pipe
Lights: Navigation lights, landing and taxi lights
This model doesn't have a 2D panel
Realistic light effects on gauges
Nightlight effects on panel
Separate switches for instruments lights and dome light
Toggle yoke
Real behavior compared to the real airplane
Real weight and balance
PDF documents: Normal and emergency procedures, check list, GNS430 User Guide, AVSS manual and VC diagram
Review
Carenado made the V-tail bonanza look so good. Everything about this plane is great and its fun to fly, and the liveries are excellent. - FlightSim
Customer Reviews
Rated 5.0/5.0 based on 1 customer reviews
03/31/2020

5

/

5

Verified Purchase

A great little plane, with big engine sound. I have always liked the Beechcraft Bonanza, but I did not want to pay a big price to own one. The sound is unbelievably good! The graphics are great! Good job! Thanks!
Submit a review of this product
Customers Also Purchased