Beechcraft D17 Staggerwing for FSX/P3D

2 reviews


This addon is compatible with
Microsoft Flight Simulator X
. It should also work with
Microsoft Flight Simulator X: Steam Edition
. Some developers have explicitly stated compatibilty with Steam Edition but others haven't. Check the product description below for guaranteed compatibility. Just because it doesn't mention it, this does not mean it will not work with the
Steam Edition
.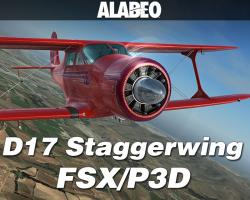 Media Format

Immediate Download

Compatibility

Microsoft Flight Simulator X inc. Steam Edition & Prepar3D including v4

File size

90 MB
The young and talented Alabeo team have created a great looking D17 Staggerwing for Microsoft Flight Simulator X and Prepar3D, that is both a joy and a challenge to fly. It's available now as an immediate download so you can be taxiing it out of your virtual hangar in no time at all. The download is around 90MB and shouldn't take up to much space on your hard drive, you don't need to worry about making space by removing other add-ons.
The Beechcraft D17 Staggerwing is an American biplane, introduced in 1933. It was built to be a fast cabin biplane for the business executive and served, effectively, as the business jet of the Great Depression. It got it's name from it's unusual design; it features an atypical negative stagger, meaning that the lower wing is further forward than the upper wing. Combined with it's unique shape, this aircraft actually translates very well to a simulation environment, as these design features maximize pilot visibility, making this a great aircraft to fly when exploring new scenery.
The exterior of the aircraft features very attractive shines and reflections that help the aircraft feel like it's really in the environment. The interior of the aircraft features polished wood trimming and echoes a 1930's luxury aircraft feel. Small features like the Beechcraft 'B' embossed into the seats add charm and character to the D17 Staggerwing.
Retractable landing gear with accurate suspension, strobe lights and opening doors are a few of the features that round out the rest of the aircraft. Not common for the time, the retractable landing gear and careful streamlining, combined with a strong radial engine and housed in light materials, affords this aircraft good performance.
A few different repaints are included. Most noteworthy is the blank texture, for those who want to go the extra mile and create their own repaints for their collection, or to be made available to the community.
Features:
Superb material shines and reflections.
Volumetric side view prop effect.
Dynamic propeller shines effect.
High quality 3D model and textures.
Blank texture for creating your own designs
Customer Reviews
Rated 4.5/5.0 based on 2 customer reviews
05/12/2020

4

/

5

Verified Purchase

This little Aircraft is so decent I bought it THREE times. For anybody who has read any of the W.E.B. Griffith stuff this plane is straight out of the book. A delight to fly, under the Golden Gate Bridge or not, it has wonderful flight characteristics and is pretty fast for a Biplane. I have bought this particular plane from Alabeo 3 times due to losing my serial for my original so I think that speaks highly of how I feel about this little plane. Only gripes are low-resolution textures by todayís 4K standards and baked in shadows on the dash, kind of hard to get over in VR. Other wise a great little plane that sees WAY more than the usual amount of my GA time in P3D due to itís ease of operation and good manners.
04/01/2020

5

/

5

Verified Purchase

Alabeo is without a doubts my favorite Payware Aircraft Company. The planes look tremendously real and they fly marvelously. I have never purchase the Stagger Wing before but it is GREAT!

Dr. J.M. Ashburn Chaplain Lieutenant Colonel Georgia SDF (Georgia Army Guard)
Submit a review of this product
Customers Also Purchased