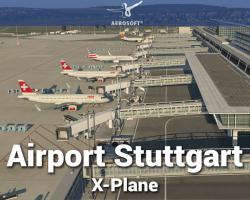 Media Format

Immediate Download

Compatibility

X-Plane 11

File size

36 MB
For all X-Plane 11 users, the immense jump in detail from X-Plane 10 to 11 is truly impressive. However, time limitations mean that many parts of the world can still feel generic and dull in comparison to the real thing.
One such place that feels like this is Stuttgart. Stuttgart is a truly impressive city, but arriving at Stuttgart Airport can feel rather unimpressive. X-Plane 11 users, then, can use Airport Stuttgart to help transform the airport into a much more realistic take on the city and airport.
Given the importance of Stuttgart as a city in German culture, this is a much-needed add-on. Now, arriving in this richly enjoyable Swabian city becomes easier, as the airport delivers a far more authentic take on what arrival here feels like.
Free from the old missing parts of the airport and outdated effects, this is far more realistic. Numerous new buildings stand in the airport, with a new and improved layout enduring that it looks as good as it possibly can. If you enjoy a transformative look at an airport, this helps to make flights to Stuttgart both more challenging and rewarding in equal measure.
From the new exhibition center to the terminal being filled in, everything here changes to help make this as close to the real Stuttgart Airport as is possible in 36MB.
Key Changes
Makes the most of advanced X-Plane features, such as 3D spill lights and dynamic lighting.
Animated passengers can be seen boarding plans, and marshallers stand at all normal gates and stands if you are using the AutoGate plug-in by Jonathan Harris. Also X-Life compatible.
Taxiway networks reworked and improved to help them fit with the real identity of the airport. ATC and AI aircraft can now land here much easier.
Draw Parked Aircraft feature works fully in this, as it has since X-Plane 10.50.
New and improved ground service vehicles scurry around down below, filling up the airport and carrying out their daily duties.
New and improved hand-placed objects everywhere make the airport look busier, too. Street lights and parked cars are everywhere, adding to the business of the airport.
Road networks are changed to ensure that animated traffic can be seen coming to and from the airport, further adding to the sense of realism that comes to life here.
Parked cars can be turned on/off to help maximize and improve the performance of the airport on lower-end hardware.
Submit a review of this product