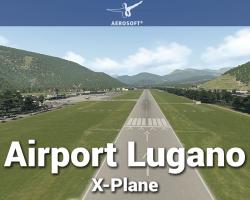 Media Format

Immediate Download

Compatibility

X-Plane 11

File size

48 MB
Airports are the lifeblood of any good aviation experience, especially in X-Plane 11. This take on the Airport Lugano is essential to making sure you can enjoy a much more comprehensive flight experience in Switzerland. This small international airport often lacks detail and realism, and this helps to overcome that.
Located in-between Bioggio, Muzaano and Agno, Lugano Airport is a vital part of Swiss aviation. Now, X-Plane 11 users can arrive here and notice a much more authentic aviation experience. Its stunning view given its location ensures this might be one of the most beautiful arrivals that you can make.
With over 170,000 passengers come through here on an annual basis, this airport is well worth coming to visit. For residents to completionists, this helps to offer a solution that can get you to Zurich and back without issue. It also flies to key locations like Roma and Olbia.
Key Features
An impressive take on not just Lugano, but the general area around it. A highly detailed take on the mountains and the nearby scenery creates a much more immersive experience.
3D models and high-resolution textures help to create a much more impressive, welcoming location to visit.
The glass on buildings now creates an authentic reflection of the world around it.
X-Life compatibility is included. Taxi routes and AI traffic adjusted to help fit with this compatibility.
New vehicles line the airport car park, making sure that the airport looks as busy as it is on any given day.
Roads are fully stratified to help make sure that road traffic can move around freely and without any problems.
Old files were removed to avoid needless duplication and to help remove performance issues.
Objects revised for use on grass ensuring that they fit in perfectly with the general look and atmosphere.
All airport buildings follow their authentic look and performance, fitting in with the real airport.
20,000 grass polygons used to help improve visual appeal whilst balancing out system performance.
Lighting changes in real-time to fit with the time of day, making sure you always have ample visibility.
Sloped runway just like the real airport, posing a new challenge for pilots not used to slopes
AutoGate plug-in now can make use of AGNIS and marshallers for the right level of security.
Manuals and charts included to help you easily find your way to this airport using the official means of delivery.
Submit a review of this product