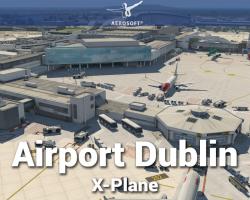 Media Format

Immediate Download

Compatibility

X-Plane 11

File size

480 MB
As one of the most commonly visited airports in Europe, Airport Dublin finally makes this hotspot come to life. As the 15th busiest airport in the continent, over 20 million people fly in and out of Dublin on an annual basis. This X-Plane 11 add-on provides that much-needed realism and adds the bustling feel that's synonymous with trips to Dublin.
This not only helps to turn this international airport around, but you will find Ryanair and Aer Lingus flights taking off from here constantly. The airport, based around 10km from Dublin city center, is in the process of mass redevelopment. This looks to add in that sense of change, and also adds in many minor, smaller details. Each one will help to add all manner of changes to the airport that makes it stand out exactly as it should.
If you wish to take a trip to the Emerald Isle, arriving in Dublin will now feel as good as it should. This faithful recreation of the airport helps to revamp it and vastly improve its look, feel and atmosphere. As one of the busiest airports around, this offers a take on the airport that feels far more realistic.
Version 2
The latest update to this add-on, Version 2, added many new changes. From close to 10,000 new parked cars to more than 30 missing buildings added, the airport feels far more alive. Old blurry textures were removed and replaced, too, bringing a greater standard of visual appeal to the whole airport.
Fully compatible with X-Plane 11, Version 2 also looked to add new X-Plane features. From glass reflections and 3D spill lighting to animated service vehicles, many new changes were added. Volumetric grass, animated road traffic as well as jetways and marshallers (with AutoGate) all add a new sense of energy to this design.
Fully compatible with X-Life, this gives you a wildly impressive new range of systems to work with. The improved traffic, new HDR lighting, and extra traffic add where previously little existed.
Key Features
A wealth of new buildings and installations are put across and around the airport. The airport now feels much busier and looks much more the real Dublin Airport.
Models and photorealistic textures blend together to help make the airport look and feel authentic. This fits in with X-Plane 11 standards in some style.
Runways and taxiways will be adjusted, too making sure that they match up with the visual standards expected.
New nighttime effects work well, too, making arriving here during the day or at night much easier. It's a much easier solution than you might be used to with the previous lighting.
High-resolution textures help to add a nicer finish to the entire airport. Now, Dublin Airport carries the attention to detail that it deserves.
Submit a review of this product