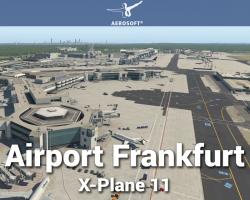 Media Format

Immediate Download

Compatibility

X-Plane 11

File size

550 MB
As one of the most important cities in Germany, Frankfurt is a truly special place to be. This tremendous city, the home of German commerce, also plays host to one of the most important airports in the country. This new adaption helps to take Frankfurt Airport and add a touch of depth that was previously missing. While X-Plane 11 is already a hugely impressive construct, this helps to finish off those little details that were missing from the initial release.
The busiest airport in the country, this is a stunning package that provides comprehensive scenery for all to enjoy. The unique nature of this airport shines through in the design, with its massive terminals and sprawling runways making it a truly wonderful place to take off and land from. Now, with this add-on, it can feel even more enjoyable to arrive at and depart from!
With the realistic scaling of the airport to make it feel more like the real thing, the size can be quite daunting at first. Add in the realistic scaling of the airport and the airport buildings being so closely modeled, and itís easy to see why so many people love to arrive and take off from here!
You can take the taxiway bridges or you can head out from Terminal B, which is a new addition to this add-on. With extensively high-resolution texture work and an impressive attention to detail on everything from the jetways to vegetation, this whole airport looks far more authentic than it did originally.
Key Features
One of the most important changes delivered to Frankfurt Airport is the new range of objects. Now, objects are complete in impressive 3D that looks fantastic.
The Frankfurt AG official documentation has been used as a close referential guide to get this as close to the real thing as is possible.
Animated passenger walkways and boarding bridges come to life alongside marshallers at all gates and stands. If you use AutoGate, youíll get even more from this!
ATC and AI aircraft will freely use the new taxiways, helping to make the airport feel more autonomous and alive than beforehand.
This is fully compatible with many of the new ground service vehicles that were introduced using X-Plane 11 in the first place.
New hand-placed objects such as cars and street lighting make this whole airport feel more atmospheric and welcoming.
Animated traffic scoots up and down the highway, with road networks all connected to ensure this airport feels as organically busy as a standard visit here would be.
Submit a review of this product