Mega Airport Frankfurt V2.0 Scenery for FSX/P3D

1 reviews


This addon is compatible with
Microsoft Flight Simulator X
. It should also work with
Microsoft Flight Simulator X: Steam Edition
. Some developers have explicitly stated compatibilty with Steam Edition but others haven't. Check the product description below for guaranteed compatibility. Just because it doesn't mention it, this does not mean it will not work with the
Steam Edition
.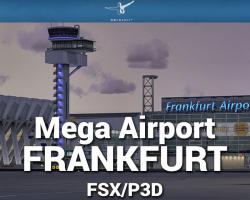 Media Format

Immediate Download

Compatibility

Microsoft Flight Simulator X inc. Steam Edition & Prepar3D

File size

2 GB
Now version 2.11. Changes include:
Some Fixes in the AFCAD Aivlasoft EFB was not able to select Runway 18 for Depature Some Gates has a small offset from the centerline.

Stoplines and Gatelines in the south apron not displayed in P3D (FSX was not effected)
Wrong Taxiway Number on ground fixed

Excludes optimized to remove object of other addons
CTRL+J Jetways added
New AFCAD with

optimized AI Traffic roll of Runway and Taxi to Gate handling
Runway 18 requestable from FS ATC for depature by User (AI Traffic not use it, limit by FS Engine)
Runway 07C/25C optional requestable for Landing for the User (AI Traffic only use 07L/25R and 07R/25L for Landing)
Approaches for GPS/RNAV requestable from ATC based on Airdac Cylce 1703 (ILS limited by FSEngine to VOR/NDB Startpoints)

Runway- and Approachlights now 3D in P3D too
Strobles and REILs added.
Runway- and Approachlights can be switch on at Daytime by setting NAV2=108.00 (not working with all Addon Aircrafts)
Minor Bug fixes, like "flying" Stopbars at the southend of RW18
Autogen Bridges removed in the airport area
The busiest airport in Germany, Frankfurt Airport, is now available for FSX and Prepar3D V3. This stunning scenery created by the award-winning German Airports Team conveys the ultimate Mega Airport feeling. Get started in international aviation and depart from Germany`s main hub. Realistically scaled and with all airport buildings modeled, this add-on takes you on a huge journey.
Taxi along the taxiway bridges to the runway or check out the new Terminal B. High resolution textures, taxiway signs, taxiways as well as an aerial image of 140km² covering the towns of Eddersheim, Okriftel, Kelsterbach, Zeppelinheim, Walldorf and parts of Raunheim make your heart skip a beat.
Features:
All 3D objects of the airport area according to the official documents of the Fraport AG.
Realistically scaled 3D objects of the complete Cargo City South with all buildings.
3D objects of the "Mönchhof" area when approaching the runway "North" with all buildings based on current images.
Aerial image with customized autogen objects in the close vicinity of the airport covering about 140 km² including the towns of Eddersheim, Okriftel, Kelsterbach, Zeppelinheim, Walldorf and parts of Raunheim.
Usable taxiway bridges connecting the new runway "North".
New Lufthansa Terminal A-Plus.
New Terminal B with all Satellites.
Original taxiway signs as well as new taxiways in the south and sout-west.
New ICE station "The Square" with parking lot.
Numerous new buildings at the airport.
Customer Reviews
Rated 5.0/5.0 based on 1 customer reviews
09/18/2016

5

/

5

Verified Purchase

This air port is fantastic , especialialy at night , great runways . lighting is fab as is approach , I have six maga airports from aeropsoft , this one outshines them all , recomend to anybody well pleased with my purchase ta
Submit a review of this product
Customers Also Purchased