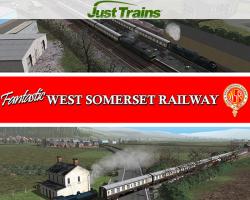 Media Format

Immediate Download

Compatibility

Train Simulator 2016

File size

370 MB
Just Trains is proud to bring you an authentic reproduction of the West Somerset Railway for you to drive on your PC.

The West Somerset Railway, the epitome of a preserved country branch line railway harking back to bygone days, is the longest 'heritage' line in England, with trains running 20 miles between Bishops Lydeard station (four miles from Taunton) and Minehead, via the Quantock Hills and along the Bristol Channel coast. The line is still connected to the national rail network on the Great Western Line at the southern end.

This Fantastic West Somerset Railway add-on for Train Simulator in fact represents the line some time in 2015, following the introduction of a new siding at Norton Fitzwarren and also the southern extension of the passing loop at Williton Station. The line is almost entirely accurately signalled, and has been accurately modelled with numerous custom objects, buildings and signals to show the splendour of the West Somerset Railway in digital form.

The route includes 14 Standard Scenarios - please note that additional stock (not supplied) is required to enable all the scenarios to be operated.

Important!Please note that The Fantastic West Somerset Railway is compatible with Train Simulator 2015. If you purchased Train Simulator after 20th September 2012 then you will require the European Loco & Asset Pack (available to purchase via Steam) for the route to display correctly.

The West Somerset Railway logo and name are used with the kind permission of the West Somerset Railway PLC.

ROUTE FEATURES
Authentic reproduction of the West Somerset Railway in 2015
Route class: Heritage
Route length: approximately 20 miles
Beautifully detailed and immersive scenery around the Quantock hills and North Somerset coast.
Includes 14 Standard scenarios and one Free Roam scenario
Route is Quick drive enabled
Includes custom signals

CUSTOM BUILDINGS AND OBJECTS
Bishops Lydeard station - including station buildings, signal box, water tower and bridge
Crowcombe Heathfield station - including station buildings and signal box
Stogumber station
Williton station - including station buildings, signal box and engine sheds
Doniford Halt
Watchet station - including station buildings and boat museum
Washford station - including station buildings and Somerset and Dorset Railway Trust shed
Blue Anchor station - including station buildings and signal box
Dunster station - including station buildings and shed
Minehead station - including station buildings, turntable and engine sheds
Specific custom 3D trees and foliage
Custom platforms
Custom design GWR signals
Custom modern level crossings

SCENARIOS

Note:For certain scenarios to run correctly, the following locomotives are required:
Just Trains: Standard 4MT Advanced, Voyager Advanced, GWR Manor Class and Digital Traction Rebuilt Bulleid Light Pacific

Steam: BR Castle Class, Freightliner Class 70, Class 150 DMU


Standard scenarios

70s at Norton
Duration: 30 minutes
Season and weather: Autumn - cloudy
Required locomotive: Steam - Freightliner Class 70

Drive a Class 70 on a special working around Norton Fitzwarren and up to Bishops Lydeard. There is some shunting to be completed, as well as a bit of a fast run up and down to Lydeard.


7F from Minehead
Duration: 90 minutes
Season and weather: Spring - clear
Required locomotive: Default 7F 2-8-0 Prussian blue

Drive from Minehead to Bishops Lydeard with the S&DJR 7F and seven carriages in tow. There's nothing complicated about this run - it's just a pleasant trip through the countryside. Be sure to keep an eye on your fire as you climb the two hills en route, though!


Engineers Working
Duration: 60 minutes
Season and weather: Winter - clear
Required locomotive: Default Class 37 BR Green split headcode

You're in command of the resident Class 37 and will be driving to Norton Fitzwarren to collect an engineering train. You will then drive to Williton and deposit some wagons before terminating at Washford.


Heritage HST
Duration: 45 minutes
Season and weather: Spring - clear
Required locomotive: Default High Speed Train BR Blue

The first preserved HST unit is visiting the West Somerset Railway for an upcoming diesel gala. You are driving the lead unit along with a set of Mk 2s and 3s and a dead Class 47 from the main line at Norton Fitzwarren to Williton.


Steam Gala Part 1
Duration: 90 minutes
Season and weather: Autumn – 3D cloudy
Required locomotives: JT GWR Manor Class and Steam BR Castle Class

Take the Manor from Bishops Lydeard to Minehead on the opening service of the Autumn Steam Gala.

Steam Gala Part 2
Duration: 90 minutes
Season and weather: Autumn – cloudy
Required Locomotives: JT GWR Manor Class and Steam BR Castle Class

Take 5029 'Nunney Castle' from Bishops Lydeard to Norton Fitzwarren where the locomotive must be turned on the triangle. Then return to Bishops Lydeard and collect the arriving service which you will then take non-stop to Minehead.


Steam Gala Part 3
Duration: 90 minutes
Season and weather: Autumn – 3D cloudy
Required locomotives: JT GWR Manor Class and Steam BR Castle Class

Take 5029 'Nunney Castle' and a Manor from Minehead back to Bishops Lydeard. You only have seven coaches but are still double-headed. This is a chance for you to admire the view and for your fireman to have a bit of a rest!


Santa Special
Duration: 30 minutes
Season and weather: Winter – cloudy snow
Required assets: Steam European Loco & Asset Pack

Take the S&DJR 7F from Bishops Lydeard to Williton on a snowy December day. You have 10 coaches in tow so this won't be the easiest of tasks to accomplish!


Sprinting the West Somerset
Duration: 90 minutes
Season and weather: Spring - stormy
Required locomotive: Steam Class 150 DMU

Drive a Class 150 from Minehead on a special charter service to Cardiff. You are driving as far as the network rail boundary at Norton Fitzwarren.


Standard Storm
Duration: 75 minutes
Season and weather: Summer - clear
Required locomotive: JT Standard 4MT Advanced

Drive visiting Standard 4 No. 76079 from Bishops Lydeard to Minehead with an 11-coach incoming railtour in tow. This one is a challenge for even the most skilled of drivers!


A Round Trip
Duration: 190 minutes
Season and weather: Summer - clear
Required locomotive: Default Black 5

Drive visiting Black 5 No. 45379 from Bishops Lydeard to Minehead and return. This is a long scenario but very rewarding when completed!


Minehead Driver Experience
Duration: 100 minutes
Season and weather: Autumn - rainy
Required locomotive: Default Black 5

Drive a Black 5 from Minehead to Williton and back on a driver experience day. You will be required to drive both ways and oversee the correct uncoupling and running round of the train at Williton.


Late Evening Test
Duration: 60 minutes
Season and weather: Autumn - clear
Required locomotive: JT Digital Traction Rebuilt Bulleid Light Pacific

You are in charge of a test run of the newly restored West Country Class No. 34046 Braunton. Starting at Minehead, you will run all the way to Bishops Lydeard to complete the test. Along the way you will be required to stop at certain stations to check the engine's bearings and will also need to conduct two brake tests. Enhanced permissible speeds are active during this scenario, allowing you to run at up to 70mph in places - make sure you know the route, though, as it's easy to get lost and come unstuck!


Visiting Voyager
Duration: 120 minutes
Season and weather: Summer - clear
Required locomotive: JT Voyager Advanced

A Virgin Voyager is visiting the line for the first time. You are to drive it from the mainline to Minehead and then stable the unit.


Free Roam scenario

Free Roam Scenario
Locomotive: Use default stock


SYSTEM REQUIREMENTS
Train Simulator 2016

NB: The European Loco & Asset Pack (available to purchase via Steam) is required for the route to display correctly.

3.0GHz PC or any Dual Core
Windows 8 / 7 / XP / Vista
512MB RAM (1GB for Windows Vista / 7 / 8)
256MB graphics card with Pixel Shader 3.0 (AGP/PCE only)
Direct X 9.0c compatible sound card
300MB hard drive space
Note:For certain scenarios to run correctly, the following locomotives are required:

Just Trains: Standard 4MT Advanced, Voyager Advanced, GWR Manor Class and Digital Traction Rebuilt Bulleid Light Pacific

Steam: BR Castle Class, Freightliner Class 70, Class 150 DMU
Submit a review of this product