This addon is compatible with
Microsoft Flight Simulator X
. It should also work with
Microsoft Flight Simulator X: Steam Edition
. Some developers have explicitly stated compatibilty with Steam Edition but others haven't. Check the product description below for guaranteed compatibility. Just because it doesn't mention it, this does not mean it will not work with the
Steam Edition
.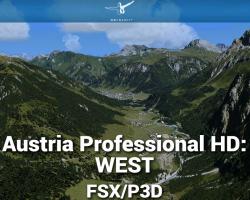 Media Format

Immediate Download

Compatibility

Microsoft Flight Simulator X inc. Steam Edition & Prepar3D (including v4)

File size

12.4 GB
For those looking to enjoy a trip to Austria, you might find the European nation a little lacking.
FSX and P3D do little to diversify the country and help it to stand out. With Austria Professional HD: West, though, you can make the whole western part of the nation feel much more immersive and in-depth.
Instead of the old Austria that feels so limited in scope, this add-on improves much of the nation for the better. By taking Austria and using high-quality aerial imagery, the whole location will change and become much more concentrated and detailed.
Known as the "Land of the Mountains", those who come to Austria will now find this to be a deeply diverse, varied landscape.
Indeed, many pilots rate a trip to Austria as among the most enjoyable you can have. This add-on includes this for you, ensuring that you can get the very most out of your Austrian trip.
With new scenery that helps to add better variety to the western half of the country, trips here should never feel so generic again.
Mountains and valleys open like never before, while massive mountain crests lead you down to amazing visual sights that will take the breath away.
You can follow the geography of the many rivers, lakes and railway lines to help find your way around the western half of the nation.
Many new castles, churches, and transmitter towers all become part of the Austrian scenery, too, making flying over major landmarks much more simplistic and notable than before.
What's new?
Immersive detail across the whole western side of Austria, adding depth and detail where previously little existed.
Accurate elevation models using geometrical resolutions of around 5m.
New and improved textures for summertime delivering custom textures with around 1m/pixel depth to the scenery.
Autogen made specific to the region to be included, ensuring that the whole region carries the lush temperate landscape of Austria itself.
New Austrian airfields included to help add more landing spots and to ensure you can find your way around.
Better landmarks and clearer spotting of key places to visit across the country ensures you can find and see more of Austria than before.
Deeper valleys, longer mountains and more immersive locations ensures you can enjoy a challenging yet rewarding flight experience.
Submit a review of this product
Customers Also Purchased