This addon is compatible with
Microsoft Flight Simulator X
. It should also work with
Microsoft Flight Simulator X: Steam Edition
. Some developers have explicitly stated compatibilty with Steam Edition but others haven't. Check the product description below for guaranteed compatibility. Just because it doesn't mention it, this does not mean it will not work with the
Steam Edition
.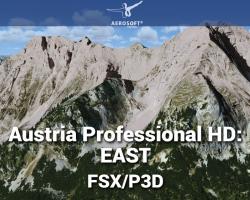 Media Format

Immediate Download

Compatibility

Microsoft Flight Simulator X inc. Steam Edition & Prepar3D (including v4)

File size

13 GB
As one of the most impressive and diverse nations on the planet, Austria is a truly special location. Its mild climate and temperatures ensure that it feels like a special place to be all-year round. Whether you like to take a ski down the mountains or enjoy spending time in cities like Vienna and Salzburg, you will find that tips to Austria can feel fantastic. In FSX and P3D, though, they often lack definition due to a lack of detail across the airport.
With Austria Professional HD: East, that problem can soon become a thing of the past. This helps to take Austria and make it more accurate compared to the magnificent country that Austria truly is. You should find it easy to fly over the Land of Mountains now, seeing it for all of its true glory, scale, and size.
This helps to make FSX and P3D users find Austria a much more enjoyable location to fly over. With everything altered to make it much more detailed as much as FSX/P3D allow, this makes a wholesale change to the layout and scale of the country truly come to life.
As the first part of a wider two-part release, this adds so much detail to the Eastern side of Austria. Now, trips over the mountainous regions will leave you with a very impressive nation to behold below you.
From the mountains and valleys carving natural pathways through the country to its stunning railway lines that stretch for miles, visiting Austria is easy. Now, it can look at realistic and as beautiful as it should from the skies, with new texture work and placement ensuring this feels much more like the nation that so many revere.
Key Features
A whole new form of elevation has been utilized to help make Austria feel like the deeply enjoyable mountainous region it always has been.
Detailed elevation helps to add a new geometrical resolution of 5m. Now, this mountainous nation can begin to look as elevated as it truly is!
With new custom textures based on high-quality aerial imagery at around 1m/pixel, this helps to add a very impressive level of detail that would otherwise be missing.
Autogen vegetation and buildings are used as and where applicable to help make the whole country look busy. Eastern Austria is a busy place; come see it for yourself!
All of the major Austrian airfields within the eastern half of the country have undergone a radical change to their scale, location, and realism. This makes flying and landing so much simpler!
LOXT Tulin and LOXZ Zeltweg, in particular, have undergone major changes, with new buildings and features alongside the standard aerial imagery transforming the look of each airport.
Submit a review of this product
Customers Also Purchased