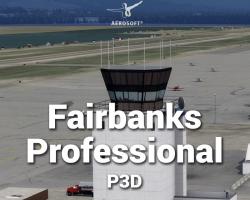 Media Format

Immediate Download

Compatibility

Prepar3D v4 & v5

File size

2.6 GB
A trip to the tremendous arena of Fairbanks International Airport should be high up on the list of any pilots list of airports to visit. This tremendous, state-owned location is one of the most important parts of Alaskan aviation. Based on the North Star Borough, Fairbanks International is one of the most important airports in the state.
Used by a wide number of different passenger airlines, itís commonly used as a place for re-fuelling when taking part in trans-polar flights. Ravn Alaska and Alaska Airlines both operate out of here and also work alongside other major US carriers such as Delta and United Airlines.
Despite being the smallest city in the US with a non-stop service taking passengers to Europe, Fairbanks is a very important US city. Now, it finally looks as good as it should have.
This mod looks to take the P3D v4 version of the city to a whole new standard of quality and consistency. Up-to-date in both the layout and the style, this scenery package easily packs together a whopping aviation experience that you can almost certainly enjoy.
With both airport buildings and parking positions improved, everything from the aesthetic look to the general layout comes together. This is all up-to-date as of April 2018, so you can feel like you are flying to a modern take on a very important airport.
Key Features
A huge arrangement of changes to building scale, location, placement, and facing.
Everything is updated to work with the P3D v4/v5 SDK, with new material options and optimized performance to match.
New and improved textures, shadows, and scenery help to set the tone in the airport and make it truly stand out from the crowd.
Key buildings, taxiways, and the like all come to life here, sitting in the right spots that they should within the context of the fair size of the airport.
Fully compatible with key add-ons such as ORBX FTX Global Vector.
Removal of eyesores, such as the railway that is now closed in real-life but present here.
Improved lighting and lamps throughout the airport make it much easier to see where you are going both in the poor weather and at night.
Impressive Static Boeing 727 sits here as the property of the University of Alaska.
New ACFAD approaches via AIRAC 1804 included.
Configuration and easy management to help balance out the presentation and the performance.
Submit a review of this product