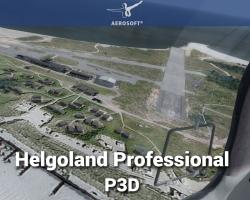 Media Format

Immediate Download

Compatibility

Prepar3D v4 & v5

File size

130 MB
For any P3D simmers, a trip to Helgoland in the past might have left you less than impressed. However, this add-on helps to take this energy-efficient isle and transform it into something else entirely. Developed with a whole range of adjustments and improvements, the island now looks much more like itís real self.
This adds an air of change to the region. Helgoland has gone through an extensive amount of change in recent years. A hub of green energy and progressive environmental control, Helgoland is very important. It plays a huge role in creating all manner of green energy. Offshore wind parks are a major addition to the region. So, too, is the amount of change to the sand dunes that once made traveling so hard. Getting around this region just became so much simpler thanks to the work that has gone into this development.
The old military SAR base has been extended to an off-shore facility, too. Itís these little changes and improvements which make this island worth your time coming out to visit. With a complete revamp now finished users can enjoy a much more professional take to Helgoland. If you have never been, come and see this island in its ďtrueĒ form.
Key Features
A highly detailed body of land has been adjusted to fit with the most specific look possible.
Performance levels are optimized to deliver the best balance in both performance and visuals.
1m resolution mesh is used to help make sure even the smallest of dunes at the airport stand out.
New animated animals and birds in the sky help to add a natural touch to your flight.
Sounds and other atmospheric improvements can make every trip out feel different.
Shipping traffic moves back and forth without issue, following key shipping lanes and also to the island via the oil rig.
SAR helicopter bases for the German Navy and a German Navy frigate are both visible and fully usable.
Helgoland-Dune Airport is reworked, complete with that challenging and short runway for the future.
Detailed aerial imagery is used to help make sure the entire island looks natural and avoids contrast between the new and the old.
A full manual is provided in both English and German for easy set-up and troubleshooting.
Key Adjustments for P3D v4
New and improved changes to Duene has taken place. With the island adjusted, it now fits in with 2018 features and status.
New and improved high-resolution imagery is used to help paint the island in the best light possible.
Runways and aprons are vastly improved, with new 5cm/pixel textures used for maximum effect.
The OLT hanger has been adjusted to its correct location, along with some other minor add-ons.
New vegetation, add-ons, and props are used to help make sure the beaches and the entire island looks much busier.
Island cliffs have been reworked to look more realistic.
4 new wind farms and helipads included too for extra attention to detail.
Added new maintenance heliports for easy access to and from the island when at sea.
Submit a review of this product