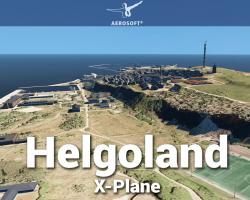 Media Format

Immediate Download

Compatibility

X-Plane 11

File size

500 MB
A trip to the German island of Helgoland might just be one of the most enjoyable trips that you could make in X-Plane 11. This interesting island is the only island in the open sea that belongs to Germany, and for that reason should be very fun to come to visit.
X-Plane 11 users, though, might feel let down by the distinct lack of detail. With this new add-on, you can put an end to that problem in a matter of moments.
This recreates the island in close and attentive detail ensuring that it finally stands out from the masses of sea and land all around it.
Over the millennia, nature has done a lot of landscaping work on the isle of Helgoland. This looks to make sure that everything from the high sand dunes blocking RWY21 is removed, with the southern side of the Helgoland airport now the location where the waves snap and smash across the tip of the runway.
Part of what makes a trip to Helgoland so special is the environmentally conscious nature of the island.
You will find that a trip here now includes these green elements, from offshore wind farms to an offshore helipad. You can easily fly a helicopter to and from this helipad, making it easy for you to fly above the high-reaching waves of Helgoland and see it for yourself in all of its glory.
So, why not join others in landing a BN-2 Islander here? Itís the only aircraft that will fit on the immensely short runways that make up Helgoland, after all. Try it out for yourself to enjoy a rewarding but hugely challenging landing in all of its glory.
Whatís New?
Impressive use of aerial imagery to recreate the ground floor of Helgoland like never before, using 1m mesh resolution to help get even the smallest of dunes.
Helgoland-Dune Airfield included, complete with the challenging but enjoyable runways to try and land on.
New airport buildings are included with the package, including airport buildings such as air traffic control towers with transparent windows.
Customized autogen and vegetation included making the wider area look much more professional and enjoyable to fly over.
High-performance standards ensure that you can fly over Helgoland without seeing any drop-off in visual performance
New ground traffic, air traffic, ship traffic, and 3D people move around the location to help it look like the busy tourist hotspot that Helgoland is.
Fly over the offshore harbor and wind farms, complete with helipads to make sure that you can land here without any issue.
Fully landable German Navy frigate that sits in the water for you to gain access to, as well as an SAR helicopter from the German Navy.
Submit a review of this product