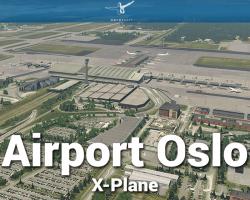 Media Format

Immediate Download

Compatibility

X-Plane 10.50+, X-Plane 11 and X-Plane 11/10 Steam Version

File size

700 MB
This take on the impressive Oslo Airport helps to take a major Norwegian Airport and transform it. Users will note the complete transformation in the airport, adding detail and realism that's sorely lacking. Oslo Airport Gardermoen is the major airport for the capital, Oslo, and as such should be improved and optimized.
Completely rebuild for X-Plane 10 and 11, this adds various changes to the airport to make it more hospitable and easy to arrive at in simulation. Developed by Jo Erlend Sund, this improves the vast majority of the airport architecture. From detailed remodeling of terminals and runways to high-definition textures, this adds a freshness to the airport that was previously sorely lacking. Runways are more realistically embedded into the ground, too, alongside new plug-ins for better animation, seasonal textures and much more.
Should users from Norway or who frequent Scandinavia wish to uplift Oslo' premium airport, this delivers many solutions to take Oslo Airport to the standard one might expect.
Key Features
An impressive rebuild of the airport itself, as well as around 13sq km of the surface around the airport for a more immersive experience.
New and improved recreations of the terminal and airport buildings give the airport a more distinct, open-minded and unique feeling than before.
Photorealistic textures help to add to the image quality seen down below, with runways and taxiways completely reworked as well.
The new and improved atmosphere in the airport helps to make every visit feel as welcoming as possible. Oslo is a busy airport and this add-on does everything possible to replicate that.
Night time effects and seasonal changes help to improve the look of the airport, adding greater realism dependent on the time of year that you choose to arrive at.
Interior modeling has been included for terminals, too, adding a greater sense of life to the airport.
Custom jetway and aircraft marshaller animations are included alongside visual guidance docking systems (Autogate plug-in is required).
Customized and bespoke local models included to help make service staff and equipment more realistic and in line with Oslo Airport equipment.
Highly detailed clutter objects help to add a greater layer of life to the airport, making it much easier for you to enjoy.
Customized animated windsock models further improve the airport' life and general activity level.
Custom Wig Wag models, designed from scratch, adds another sense of realism and individualism to the airport.
Submit a review of this product