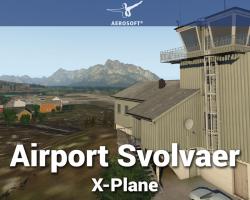 Media Format

Immediate Download

Compatibility

X-Plane 11 and 10

File size

1.1 GB
For anyone looking to head over to the Lofoten area of Norway, immersion is important. Presently in X-Plane, this particular part of Norway can feel barren and dull. This modification, though, helps to change that entirely. Now, Svolvaer Airport Helle has been changed. What is still a small regional airport now takes on a much more impressive, immersive look. X-Plane 10 and 11 users can enjoy a much more creative take on this small airport.
While it might appear small and dainty in default X-Plane, this restores the airport to a new look entirely. Now, this airport feels like a much more welcoming, hospitable destination to come and visit. While the harsh winter weather might make arriving here more difficult than previously, it makes a uniquely enjoyable landing point in Norway.
If you intend on taking a trip to this wonderful tundra, be sure to start here. with Svolvaer Airport now far more attentive in comparison to the real thing, users should enjoy landing in this remote location more than beforehand.
Key Features
A whole new take on the Svolvaer Airport Helle, remaking it with attention to detail that fits with X-Plane 10 and 11 standards.
Includes all of the buildings that sit within the real airport, ensuring it's as authentic as it possibly can be.
Ground textures are transformed using photorealistic imagery to help make sure that a trip to Svolvaer looks as it should in reality.
Highly realistic effects take place during both the day and night for that extra immersion and energy.
Accurate runway slops are included to help increase the challenge and reward pilots for perseverance.
Terminal interiors included for that extra sense of artistic detail and immersion.
The town of Svolvaer has undergone changes, too, with realistic ground textures used to help make the town transform, also.
New and improved windsock and flag animations help to add another dashing of reality to the airport, vastly improving its potential.
Seasonal textures are included to help make sure that Svolvaer changes, so long as you have the seasons plug-in installed.
If you use the Autogate plug-in, then you can use the custom aircraft marshaller, as well.
New and improved custom Aurora Borealis effect helps to add an extra layer of realism and an impressive visual effect at night.
The PLASI, Approach, and Runway systems are all updated to help fit in the new and improve Svolvaer Airport like never before.
Submit a review of this product