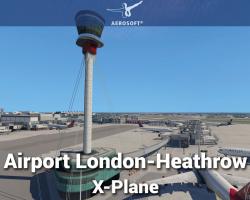 Media Format

Immediate Download

Compatibility

X-Plane 11

File size

1 GB
As one of the most important airports in the world, Heathrow Airport brings in people from all across the world. The city of London, as one of the major metropolitan hubs of the civilized world, sees millions of visitors every year. Many of them choose to arrive via Heathrow.
For X-Plane 11 users, though, London-Heathrow can feel somewhat empty and hollow. This update looks to change that, adding the detail and the scale that should be present in a flagship airport.
This new add-on looks to include all five major terminals at Heathrow, as well as many new additions major and minor. As the third busiest airport in the world, this is a representation of the 42 square kilometer airport that brings people from all across the world.
With detailed buildings all across the airport, including the T2 & T2B terminals, Heathrow visits will soon feel far more populated than beforehand.
High resolution texturing is used throughout on both ground and building textures. This extra depth alongside various ground markings and taxiway layouts ensures Heathrow feels accurate to the real thing.
Various other visual effects are put into place, too, such as LOD techniques to help create a much more impressive visual finish without a detrimental impact on performance.
For Londoners or those who have traveled to/from London Heathrow, this should create a far more familiar flying experience. Not only does the airport now feel more alive, but the X-Plane 11 level quality detail makes sure it never feels out of place.
Keep Heathrow part of the X-Plane 11 world whilst improving the quality massively with this X-plane specific update.
Key Features
Realistic recreation of London Heathrow, including around 42 square kilometers of detail.
Buildings are brought to life with attentive detail in the scale, size, and texturing.
Major buildings that were previously missing were included, including T2 and T2B terminals.
AutoGate compatible, with Safegate and other dockings included at all gates.
Self-shadowing and raytraced night lighting help to create authentic shadowing throughout.
30cm/pixel ground textures used for every part of the airport to improve detail.
Ground markings and taxiways are authentically marked out as they should be.
Taxiway layouts match-up with the new rapid taxiway links and runway exit points.
Autogen points are carefully placed to help create an authentic Heathrow airport.
X-Plane 11 ground textures blend in seamlessly with what has been added for effect.
Apron traffic moves freely and authentically up and down the runways with ease.
Submit a review of this product
Customers Also Purchased