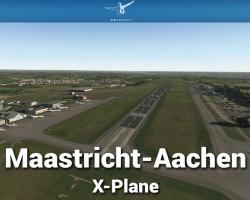 Media Format

Immediate Download

Compatibility

X-Plane 10.51+, X-Plane 11 and X-Plane 11/10 Steam Version

File size

380 MB
While Maastricht-Aachen Airport might be of a smaller size than other European international airports, itís a very important airport. It sits around 10km northeast of the city of Maastricht and around 30km from the city of Aachen. As the second-largest hub for cargo transport in the Netherlands, itís a very important location for aviation in the country.
This add-on looks to bring the airport to modern X-Plane standards. Now with much more improvement and detail across the airport, you can arrive at something much more welcoming. This is an airport which is very commonly used for low-cost carriers like Ryanair and German Wings.
Many flights to southern Europe will stop off here at Maastricht-Aachen Airport, though, making it a very important flight for numerous reasons.
By adding new and much-needed individualism to the airport, the whole region will feel much more specific. By playing a key role in aviation within the region, there is also a European Organization for the Safety of Air Navigation location here.
For those who want to add a very important airport to their simulator, there, be sure to try out Maastricht-Aachen Airport for X-Plane by XYZ Visuals.
Whatís New?
A fresh take on the important Maastricht-Aachen Airport, delivered in detail according to X-Plane 11 standards.
All ground layouts and locations included the use of high-resolution aerial imagery.
New and improved buildings produced using photorealistic textures to deliver the best level of detail.
Accurate reproduction of all ground markings to help with easier navigation, management, and arrival at Maastricht-Aachen Airport.
New lighting solutions help you to easily see where you are flying, with customized night illumination making it easier to arrive during evenings.
Animated and fully operational radar facility work in the background of Maastricht-Aachen Airport.
Numerous new changes and minor additions will help to ensure the whole airport feels more appropriate and populous.
Animated road traffic allows all parts of the airport to feel as busy as they should, with new and improved animation adding life to the whole airport.
Performance friendly optimization takes place to ensure frames per second is never needlessly hampered.
Fully compatible with X-Plane 10.51 as well as X-Plane 11.
Submit a review of this product