FlightSim Commander v10

1 reviews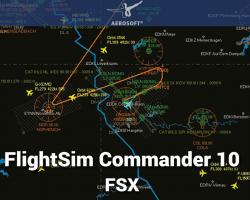 Media Format

Immediate Download

Compatibility

Microsoft Flight Simulator X (all versions including Steam Edition) & Microsoft Flight Simulator 2004

File size

185 MB
When it comes to controlling an aircraft, it's vital that we have the right tools to help us stay in command. Flightsim Commander is an add-on for Microsoft Flight Simulator 2004 and Microsoft Flight Simulator X. As the ideal tool for flight planning, management and navigation, it makes the challenge of planning out your flight like a pro a thing of the past.
With the moving map function, you can easily follow your own aircraft (or an AI craft) every movement. You can see the actual position of where you are in the simulator on Google Earth©, too!
Fully compatible with a separate PC via network link using WideFS, this makes controlling and managing your flights so much simpler. Great for online pilots who want to fully understand the full airspace structure involved. By being able to easily create flight plans with minimal fuss, you can make the planning side of aviation a much less stressful endeavor. You can also create detailed flight plans when on official airways, even forming a database of your own bespoke waypoints.
Everything here goes the extra mile to help improve how you fly. The addition of PACOTs, NATracks, STARs, and SIDs all make planning flights and departures so much easier. If you find this part of aviation management a stressful experience, Flightsim Commander can help you out. It's a comprehensive planning aid that makes creating and following route segments very easy.
It even lets you look at airport layouts, making sure you fully understand where you are arriving. If you like, you can load up vertical and horizontal approach charts for the runway of your destination. This makes flying easier, safer and more consistent than beforehand.
If you are a virtual pilot looking to make flight planning perfect, Flightsim Commander can assist you.
Key Features
Calculate everything that you need to plan and prepare the perfect flight journey. From departure and arrival points to fuel consumption, you can know everything prior to takeoff.
Learn from a mapping system that shows off VORs, NDBs, ILSs, and MSA.
Automated flight switching of flights in the polar regions, from Mag to True and vice versa
Work with up to 12 types of airspaces as well as make use of coastlines and national boundaries for the utmost realism.
Set up autopilots with ease, or use GPS displays for simpler and easier navigation on your own.
Send Flight Simulator ILS frequencies for automated, rapid transmission. You can also transfer VOR/NDB/ATC frequencies to your aircraft with a single click of the mouse.
Select fly-by or fly-over flight modes, all the while tracking the flight in real time on a moving map display.
Record all flight data for future analysis and inspection to see how you can improve as a pilot.
Record and display all flight plan data and performance on Google Earth© for easy analysis. See your current position in live-time, too.
Load flight plans using RouteFinder© or similar. Use flight plans as routing that comes from external sources. You can also define and then fly any holding pattern chosen.
Choose to highlight AI aircraft or not when in transit, and get TCAS warnings if an AI aircraft is approaching at a challenging/dangerous angle.
Keep an automated logbook that puts together all the details that you could need.
Choose the timer you wish, from LOCAL and UTC.
Find navaids, airways, and waypoints to follow from across the world with a global search.
See all violations of control zones when flying in VFR.
Display flight analysis, control areas and active controls for VATSIM and IVAO pilots for better analysis of performance.
Take FS Global Real Weather readings for authentic weather creation, using 14,000+ weather stations as proof.
Show key flight data such as sunrise/sunset times on the map.
Full documentation of the LOG files included makes it easy to use this add-on without issue.
Export all plans listed in the simulator for easy adjustment and analysis.
Customer Reviews
Rated 5.0/5.0 based on 1 customer reviews
02/27/2018

5

/

5

2nd review and looking deeply at this product, it's really a must have.
Submit a review of this product
Customers Also Purchased