A-6E Intruder for FSX/FS2004

2 reviews

This addon is compatible with
Microsoft Flight Simulator X
. It should also work with
Microsoft Flight Simulator X: Steam Edition
. Some developers have explicitly stated compatibilty with Steam Edition but others haven't. Check the product description below for guaranteed compatibility. Just because it doesn't mention it, this does not mean it will not work with the
Steam Edition
.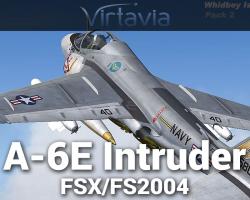 Media Format

Immediate Download

Compatibility

Microsoft Flight Simulator X & Microsoft Flight Simulator 2004

File size

109 MB
The Grumman A-6 was the US Navy's premier precision strike aircraft for over 30 years. First introduced in 1963, the A-6 saw extensive service in Vietnam and continued its life with various upgrades until being retired in 1997. The A-6E variant was the definitive attack version of the Intruder, capable of carrying a laundry list of NATO ordnance and featuring a wide array of electronics. In total, 693 A-6s were built and they served the Navy with distinction over an illustrious career.

Features -

- ELEVEN model variations with EIGHT detailed texture sets :

1. VA-95 USS Enterprise (clean)
2. VA-34 USS America (Mavericks, Snakeyes)
3. VA-115 USS Midway (Mk.82s)
4. VMA-533 US Marines (GBU12, Snakeyes)
5. VA-95 USS Enterprise (Harpoons)
6. VA-34 USS America (HARM)
7. VA-52 USS Kitty Hawk ('post strike' (empty TERs))
8. VA-75 USS Eisenhower (4 x GBU10 Paveway II's)
9. VA-128 Whidbey Island (2 x AGM-62 Walleyes, Snakeyes)
10. VA-196 Carl Vinson (2 x AGM-84E SLAM's)
11. VA52 USS Kitty Hawk ('long range' (5 tanks))

- full FSX model with all FSX features (bump mapping, self-shadowing, bloom etc)
- FSX model includes V-C SELF-SHADOWING (effect requires FSX SP2, Vista)
- HIGHLY authentic virtual cockpit with animations and mousable controls
- stunning realistic texturing with highly detailed weathering
- detailed and authentic weapons loadouts - can be switched around by simple cfg editing
- authentic all-xml 2D panel, hi-res glazed-effect gauges, custom pop-ups for ECU, autopilot and radios, fully mousable
- two seperate flight models for clean and loaded model
- loaded model includes 18 payload entries in the cfg so custom weights can be programmed (default is no payloads)
- detailed checklist and performance that precisely matches that of the real aircraft
- custom effects for turbine glow (3-stage), smoke (startup & in-flight), wingtip and flap contrails and wing surface vapour 'flash'
- high quality Intruder soundset included
- togglable realistic pilot figures
- animated canopy and entry steps
- animated wingfold, tailhook, spoilers etc
- v-c rain effects (FS9 only)
- 4 additional models and 4 additional texture sets available separately in 'Expansion Pack'
Customer Reviews
Rated 4.5/5.0 based on 2 customer reviews
11/06/2015

5

/

5

The Intruder is easily one of the most enjoyable and accessible aircraft out there, making it easy for even the most challenged of pilots to have some fun when they hop into the cockpit of this machine. It's made for flying around at quickly and effectively and gives you that real aviation boost that makes life so much simpler for everyone; when you fly something like this then your life really does become ten times easer to control and to enjoy as you will get a true appreciation of the kind of depth and detail that has long since existed.

The A-6 is an aircraft that will give pilots like myself a glimpse behind the curtain in terms of what we are capable of today within military aviation, even if the aircraft is more than three decades old. It till holds up today and gives you all the ideas that you need to see why military aviation has become such a massive industry – even though it was retired in 1997 for me it was still an aircraft we should have had in the skies today, and being able to actually try one out myself in a simulator was a massive amount of fun and something I would love to do again in the future.

If you are interested in seeing what we are capable of as a species when it comes to our development of aviation techniques and skills, you'll absolutely love flying around in this machine – its great fun!
06/09/2016

4

/

5

Verified Purchase

This is a great flight model, the only draw back I could find is the launch bar for carrier ops does not seem to work.

Nice work!
Submit a review of this product
Customers Also Purchased