Lancaster for FSX/FS2004

4 reviews

This addon is compatible with
Microsoft Flight Simulator X
. It should also work with
Microsoft Flight Simulator X: Steam Edition
. Some developers have explicitly stated compatibilty with Steam Edition but others haven't. Check the product description below for guaranteed compatibility. Just because it doesn't mention it, this does not mean it will not work with the
Steam Edition
.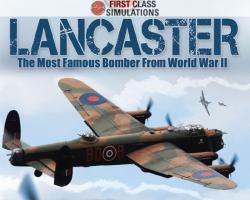 Media Format

Immediate Download

Compatibility

Microsoft Flight Simulator X & 2004

File size

230.1 MB
The Lancaster package from First Class Simulations brings the wartime great, the Avro Lancaster to your flight simulation hangar. With 10 repaints included, this is one of the most complete payware Avro Lancaster packages available for Microsoft Flight Simulator X and Microsoft Flight Simulator 2004. The model is also very highly detailed with lots of eye candy enhancements. It also includes add-on missions for users of FSX.
"I believe the Lancaster was the greatest single factor in winning the war" – except from a letter from Sir Arthur Harris, Wartime commander of RAF Bomber Command to Sir Roy Dobson of Avro, the designers and manufacturers of the Lancaster bomber.
The Avro Lancaster, a four-engine heavy bomber, (affectionately known as Lanc or Lankie) first entered service in 1942 and by the end of the Second World War had been involved in over 150,000 sorties. Most famous for its precision bombing "Dam Buster" raids, codenamed Operation Chastise, on the dams of the Ruhr Valley, the Lancaster excelled at night bombing. During its operational life the Lancasterwas constantly being improved or adapted for new weapons or equipment. Here are the variants and liveries that we have recreated for you…
Liveries included
Lancaster B. I
R5556/KM-C, No.44 (Rhodesia) Sqn RAF, RAF Coningsby, c.1942.
Lancaster B. I (H2S)
ME499/AS-D, No.166 Sqn RAF, RAF Kirmington, c.1945.
Lancaster B I (H2S)
1803, Royal Egyptian Air Force, c.1952.
Lancaster B I (Special)
PD121/YZ-Z, No.617 Sqn RAF, RAF Woodhall Spa, c.1945.
Lancaster B III
EE139/HW-R, No.100 Sqn RAF, RAF Grimsby, c.1943.
Lancaster B III (H2S)
JA845/F-CXT, Empire Central Flying School, RAF, c.1945.
Lancaster B III (Special)
ED921/G/AJ-W, No.617 Sqn RAF, RAF Coningsby, c.1943.
Lancaster B X
KB772/VR-R, No.419 (Moose) Sqn RCAF, RAF Middleton St. George, c.1944.
Lancaster 10 MR
FM104/CX-104, No.107 Rescue Unit, RCAF, Torbay.
Lancaster MR 3
RF325/H-D, School of Maritime Reconnaissance, RAF St. Maqgan, c.1956.
This title contains Lancaster versions for both Microsoft Flight Simulator X and Microsoft Flight Simulator 2004 plus for those flying in FSX, two missions are also included that will help you learn to fly this legendary World War II aircraft.
Review
"If you do not have a Lancaster lurking in your virtual hangar, get this one! I truly adore this offering; the package provides you with superbly accurate graphics, a model with seemingly accurate flight dynamics, and incredible sound effects. ..." - FlightSim
Customer Reviews
Rated 4.5/5.0 based on 4 customer reviews
09/22/2016

4

/

5

Verified Purchase

I canīt install the sofware in my FS 2004. I put It in the correct path ( Program Files (x86)/Microsoft Games/Flight Simulator 9) the main folder of FS9, but it donīt appears on the aircfrat menu of the game. I donīt know what 's happening. What name have I put when it is solicited ? The numeric password or "clave " that i put, is the same given when I bought the software. Please help me with the Installation of this aircraft that I love. My e-mail: gdiaz@asfalcura.com Thank you.

Regards,

GERMAN DIAZ.
09/12/2016

5

/

5

Verified Purchase

I just download this software but I have not charged yet to my Flight Sim FS2004. When I' ll take it down in my computer, i will see how it worksand then I could give you my last impression.

Regards

GERMAN DIAZ.
10/11/2014

5

/

5

Verified Purchase

I`ve been using both fs9 and fsx now for a number of years and this `lanc is one of the best simulations yet. Everything you could possibly want is here in one package simple! Just one comment THANK YOU VERY MUCH
08/15/2018

4

/

5

Hello, I am a Prepar3D V4 user and the FCS Lancasters perform magnificent. So, step over to Prepar3D V4 and enjoy its benefites in graphics, stability, performance etc. reg., Piet de Geus
Submit a review of this product
Customers Also Purchased