MH-53J Pavelow III for FSX/FS2004

1 reviews

This addon is compatible with
Microsoft Flight Simulator X
. It should also work with
Microsoft Flight Simulator X: Steam Edition
. Some developers have explicitly stated compatibilty with Steam Edition but others haven't. Check the product description below for guaranteed compatibility. Just because it doesn't mention it, this does not mean it will not work with the
Steam Edition
.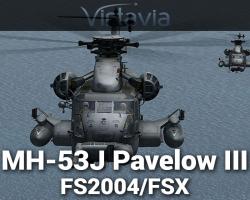 Media Format

Immediate Download

Compatibility

Microsoft Flight Simulator X & Microsoft Flight Simulator 2004

File size

35 MB
Having been part of a long line of successful and well-received search and rescue Stallion breed aircraft, the MH-53J comes from a great stock and with plenty of expertise and critical acclaim to live up to. However, it comes with a various range of electronics that allow it to miss out ground and air threats so it can easily get from one location to the next with minimal fuss. It also comes with various countermeasures to ensure it can stay safe and do its primary job, which is saving people.
As one of the most survivable aircraft of its day, the MH-53J is incredibly popular for taking on jobs in any weather and delivering in situations where other models would just not be trusted. Itís perfect for the likes of rescue roles, but has also been a key player in military arrival and extraction across various war theaters.
This package, then, makes to recreate this sturdy and dependable aircraft perfectly with a range of new features and changes that manage to capture it in all of its glory perfectly. If you want to finally see what the Stallion has to offer, this remake of the 53J is well worth trying out.
Whatís Included?
Four stunning texture remakes have been included for this model, and they include excellent renditions of popular textures such as;
Lo-visibility, Grey
Desert Camouflage
European ĎLizardí Camouflage style
IFOR Winter Camouflage style
Key Features
A completely revamped FSX model that has been changed, updated and improved to match the real-life equivalent as closely as it possibly can. Every little detail and inclusion has been added in to make sure that the key features for FSX designs such as self-shadowing and bump mapping have been included. This model also manages to capture the real scale of the aircraft, ensuring that it looks and flies in the same way that it would in reality thanks to the realism of the design

Stunning textures that have been designed from scratch by the brilliant Pierre Lhereeux. This design manages to capture the textures and the feel of the real aircraft, with the correct materials and colors being implemented into every section to obtain the most elite finish possible, capturing the detail and the depth of the aircraft in the most authentic detail possible

The visuals are backed up with an impressive range of sounds that really do capture the atmosphere nd the overall nature of any flight undertaken within this aircraft perfectly. By being put together in such a simple and effective manner, the sounds all capture the MH-53 perfectly with audio captured from real-life usages of this aircraft. This ensures that the real thing sounds the way that it was supposed to, giving the most realistic representation possible

Animations have been created from scratch to ensure that the whole project can come together perfectly. The rear ramp has been improved to act as the primary exit, with fluent animations created for its opening and closing. Likewise, the second exit of the Winchman upper hatch has been changed and improved to fit with the needed design perfectly. These new animations also include side windows in the cockpit that have been adjusted and edited to ensure they give you the best view possible whilst also making sure the cockpit can feel as alive as it should, capturing every minor action that occurs when flying

The virtual cockpit inside the aircraft has been changed, improved and revamped considerably to ensure that it captures the power of the aircraft accordingly. The virtual cockpit can now be managed and used easily with new animations and mousable switches, allowing you more or less total control over the actions of the aircraft and the various features that you will need access to when you are trying to fly properly

2D panels are created using all-XML designs, and this includes customized pop-up menus that will give you access to things like radios and switches. This allows for unprecedented control and detail over the management of the aircraft, giving you access to all of the most important functions and controls within the cockpit with just a few single clicks of the mouse. With this, you can make sure that your flight goes exactly to plan

Not sure what to do in any particular situation when flying? Then you should consider putting the brilliant checklists and references that are provided to good use. They will help you easily understand what you need to do and when you need to do it, keeping you on track for the rest of the flight and also making sure that you can avoid making any mistakes as you fly. If you need to improve as a pilot, there are few better ways to do so than with these instructions

Extended refueling probes are animated using the tailhook function (please note that this is only provided for FS9). This makes it much easier for you to manage and control the aircraft whilst keeping things working as intended. This will help you get more control over the aircraft fueling in general, giving you easy ways to keep yourself topped up for the flight

Crew figures are created from scratch that come in with a depth and a detail that is rarely seen in flight simulation. The detail on their uniforms and their faces makes it easy to tell who is who, and it also helps you easily feel as if you are involved within a real flight thanks to the representation of your crew now being added in (please note that this is only for FS9)

Rotor blades have been carefully improved and re-animated to ensure that they fit with the correct fore/aft & let/right tiling that will occur when flying an aircraft like this (please note that this will only occur in FS9)

Virtual cockpit rain effects have been added in for extra detail and depth, capturing the design and the general feel of the flight perfectly (please note that this is an FS9-exclusive feature)
Customer Reviews
Rated 5.0/5.0 based on 1 customer reviews
06/07/2016

5

/

5

Verified Purchase

looks are great. Handles great. I couldn't have asked for a better H-53 model and I giot it at a great price
Submit a review of this product
Customers Also Purchased