Avro Lincoln B.Mk.II for FSX

1 reviews

This addon is compatible with
Microsoft Flight Simulator X
. It should also work with
Microsoft Flight Simulator X: Steam Edition
. Some developers have explicitly stated compatibilty with Steam Edition but others haven't. Check the product description below for guaranteed compatibility. Just because it doesn't mention it, this does not mean it will not work with the
Steam Edition
.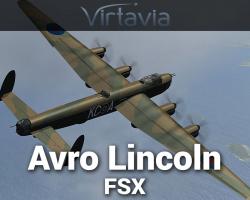 Media Format

Immediate Download

Compatibility

Microsoft Flight Simulator X

File size

118 MB
Although the Lincoln was first brought to the table as a potentially long overdue replacement for the Lancaster, it was created for Eastern European bombing runs and was in use both in the Pacific as well as the Ease. Its effectiveness in battle soon made it immensely popular, but it's lifespan as an aircraft was fairly short lived.
It was brought in during 1944 and by the end of the Second World War it seen various cutbacks. That being said, its effectiveness was not forgotten and it served with distinction across the globe until 1961; now, you can get to see how it should feel to fly something amazing like this aircraft, giving you an idea of how it would have felt.
What's Included?
In this package, you get access to a range of brilliant liveries that have all been created from scratch using stunning attention to detail, as well as real-life references, to make them look the very best that they can.
Attention to detail across the board has been outstanding, and each livery included – four in total – all come using 2048-pixel designs so that they can really capture that essence and strength. The liveries which have been included in this package are;
B.Mk.II RAF Bomber Command (various)
Mk.30 Royal Australian Air Force
MR.31 Royal Australian Air Force
Aries II RAF FC 'Lincolnian'
Key Features
Each model added into this package comes using the native FSX models as their base, and have been improved and edited beyond recognition. Everything included in here has been done so with a huge degree of attention and detailed paid to the quality of the model and to ensure that it looks exactly the way that it was supposed to. Every model added, regardless of the textures used that are listed above, carries a unique air of realism and ensures that it has all of the hallmarks of the real thing so that enthusiasts can get that true experience

A deeply realistic and accurate virtual cockpit has been made from the native FSX cockpit, too, with various remastering's and changes being included to ensure that the whole thing comes together perfectly and really does look the part. The overall quality and detail of the native FSX models combines ideally with these new authentic cockpits, making the most of the various gauges, controls and animations that have been added in there. The whole thing comes together really well and looks outstanding, ensuring that the project you are left with carries an ease of use that makes flying the Lincoln much easier than ever before!

Animated bomb bays are added in as well, so that you can get a real feeling of what it's like to carry the raw power that the Lincoln has. This aircraft was well-known for its brute power and strength, and this will ensure you have access to the bomb boys as well as the various other parts of the aircraft that you might need access to during the flight. Crew windows and doors are all added in here, as well, along with a fully animated team of flight assistants who'll help out along the way

Looking to see how powerful the Lincoln really is? Then you should consider using the accessible bombs that are included! Whilst they might slow you down ever so slightly, the increase in the power of your aircraft that they add will make a massive difference later on, giving you a true appreciation of the range and power that this aircraft brings into battle with it each time

Customized engine start-up smoke has been added so that you'll see the aircraft really roar into life – when something as powerful as this is switched on, you should be able to see the effects of doing so and this captures the detail and essence of it in the most particular fashion possible, capturing it all

A realistic crew figure has been included so that you can feel as if you are flying along with real members of the team, adding another significant layer of realism to proceedings whilst giving you a much better idea of what it can be like to fly with a group behind you making the decisions

Additionally, a period flight gear has been included to add another layer of realism to the whole thing and bring it all together

Animated propeller blades are included in here which looks excellent, roaring into life whilst you fly around and ensuring that you can get the level and form of detail that you need to make the whole thing come together in the right fashion, with the blades purring along as you fly, reacting to the decisions that you make whilst you're at the helm

Incredible sound sets have been cratered using the official Lincoln engine, so you can be sure that you are flying something that truly captures the depth and detail of the real thing whilst always managing to stay on the positive side of reality. This might look outstanding but it manages to really capture the feeling and effect of the aircraft thanks to this detailed audio package that has been added in with the Lincoln

Not sure what to do at any point when flying? Then refer to the user manual for some council! This will give you the information and the detail that you need to take a bit more information away from the process and so that you can fully understand how this aircraft operates, with illustrations giving you all the clues needed

See yourself as a talented painter? Then you should make the most of the excellent paint kit that has been included in here. It looks fantastic and does everything that it can to put the whole thing together, creating high-definition liveries in any way that you wish so long as you are capable of using Photoshop with any real certainty!

Note: Please take a note of the fact that NO 2D panels are added in with this package, thanks to the addition of the majority of the panels being in full 3D instead of using the old-school 2D cockpit style
Customer Reviews
Rated 4.0/5.0 based on 1 customer reviews
04/24/2018

4

/

5

Verified Purchase

interesting plane deserving that development like the Lancaster good WWII aircraft
Submit a review of this product
Customers Also Purchased