This addon is compatible with
Microsoft Flight Simulator X
. It should also work with
Microsoft Flight Simulator X: Steam Edition
. Some developers have explicitly stated compatibilty with Steam Edition but others haven't. Check the product description below for guaranteed compatibility. Just because it doesn't mention it, this does not mean it will not work with the
Steam Edition
.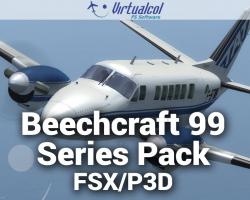 Media Format

Immediate Download

Compatibility

Microsoft Flight Simulator X inc. Steam Edition & Prepar3D (including v4)

File size

105 MB
As one of the most popular names in civilian aviation, Beechcraft has created many faithful aircraft systems. This package looks to bring to life the Beechcraft 99 Airliner and Commuter; a hugely popular part of their 1960s-1980s aviation timeline. At this point, it was a commonly used aircraft for short-distance domestic flights for third-tier airlines.
As an updated take on the old Beechcraft King Air, the 99 was a major part of the twin-engine aircraft industry in the late 1960s. Even to this day, many of the Beechcraft 99 are found flying around the skies of the world, with this utility monoplane still holding various commercial uses. While production ended in 1987, it is still an aircraft used and enjoyed by many pilots, particularly by Ameriflight.
That small but significant part of Beechcraft history helped to set the tone for many other aircraft to come in the future. It's a big part of the reason why the Beechcraft 99 series of aircraft were so popular. The Airliner and Commuter editions were both very popular for civilian use, while the Cargo edition was used for various purposes.
This package brings to life four versions of the aircraft, giving you access to a realistic take on the cockpit and interior of the aircraft itself. Enjoy a fully working 3D virtual cockpit complete with 2D panels, unique sounds, an authentic scale-size model, and a host of minor features that makes flying a Beechcraft 99 aircraft feel as rewarding as possible.
Key Features
4 variants included in this set – two Airliners, a Commuter, and a Cargo edition.
20 different liveries included all of which cover various models and uses over time.
Turboprop sounds are included to help add extra life to the audio experience in the cockpit.
Comes with a fully working 3D virtual cockpit as well as a series of 2D panels.
A faithful recreation of the aircraft with features and details captured carefully.
Included Liveries
Airline Model
Air Vegas Airlines.
Mesaba Airlines.
Mississippi Valley Airlines (MVA).
Pilgrim Airlines.
Policía Nacional de Colombia.
TAT European Airlines.
Commuter Model A
Air Florida Commuter.
Air Midwest.
Allegheny Commuter.
Danish Air Transport.
Eastern Express.
Hummingbird Air.
Inter Caribbean Airways.
Piedmont Commuter – Henson.
Sunbird Airlines.
Waglisla Airlines.
Commuter Model B
Altair Airlines.
American Eagle.
Marco Island Airways.
Cargo Model
Submit a review of this product
Customers Also Purchased