Boeing C-17 Globemaster III for X-Plane

6 reviews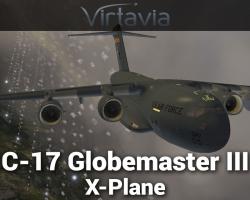 Media Format

Immediate Download

Compatibility

X-Plane 10 and 11

File size

274 MB
As one of the most popular aircraft of its era, the 4-engine military transport, the C-17 Globemaster III, played an essential role in improving how we move items, cargo and people through the air. First introduced as far back as 1991, in that time it has become one of the most important innovations in the cargo industry.
This powerful aircraft quickly established itself as a key part of the Boeing and McDonnell Douglas line. Capable of everything from tactical drop-off to cargo transport and even troop transportation, that versatility made sure that the C-17 Globemaster III has continued to be a commonly used aircraft for numerous reasons.
Commonly used by the UK, USA, Canada, and Australia, as well as the UAE and Qatar, the C-17 Globemaster III is more than just a transport solution. It's become a leader in everything from medical evacuation to airdrop for humanitarian purposes. If you would like to fly a multi-purpose cargo craft that really offers a rewarding yet challenging flight experience, you would do well to check out the C-17 Globemaster III.
What's New?
Impressive attention to detail across the model, with glass EFIS panels delivering crisp imagery, and texture resolutions more than double the FSX standard.
New and improved animations include, too, from landing gears and thrust reversers to doors and speed brakes all operating as they should.
HUD can be folded and de-cluttered to help make sure you never need to feel lost when you are up in the skies.
New and improved autopilot and standby engine functions, making sure you can arrange the aircraft to fly as comfortably as is possible.
Functional FMS computer further improves usage, with plug-in enhanced systems making your control over the C-17 Globemaster III even more pronounced.
Better lighting for both the cockpit and the gauges, making sure you can see everything as clearly as is possible when flying.
Detailed new Nav/Com/ADF/Transponder radio systems installed.
New custom viewpoint buttons and also a new mission computer makes navigation much simpler.
Stress-free and easy start-up as well as a more detailed procedure for those who want greater start-up experience.
Cabin pressure control and windscreen wipers included alongside adjustable pedals and fully working fire extinguishers.
A sound package included from DreamEngine, delivering impressive and immersive sounds to engines, thrust reversers, and many other key features – even stall warnings.
What's Included?
Not sure what you are doing? Then refer to the packaged manual that comes with your download. This will help you to get used to how to fly the C-17 Globemaster III on your own. Alongside the above, users will get access to a variety of new liveries for the C-17 Globemaster III. These include:
March AFRC - 55140
McChord AMC - 10186
McGuire AMC - 44130
Mississippi ANG - 33113
Hawaii ANG - 55147
Royal Australian Air Force - A41-207
Royal Air Force - ZZ171
Royal Canadian Air Force - 177701
Bare 'Primer', the pre-delivery scheme - 00172
NATO, Papa AB, Hungary - 001
Qatar Emiri AF, Al Udeid AB, Qatar - 80201
Qatar Emiri AF, Al Udeid AB, Qatar – Civilian
Customer Reviews
Rated 3.0/5.0 based on 6 customer reviews
04/20/2020

2

/

5

I must agree with Mr. Wood. In Xplane11 the compass is inop. The Hold HDG just turns the plane in circles and the auto VS keeps turning off. This is a great plane to fly and definitely worthy of a full functional update to Xplane11.
03/24/2020

3

/

5

Verified Purchase

Hello good afternoon. I have a problem with the landing gear of my c17 globemaster plane. my version is for xplane 11, and the wheels do not rest on the ground. Please help me, thanks.
04/17/2020

1

/

5

Sadly this plane doesn't work well with X-plane 11. A lot of things are messed up. I hope it gets an update as I love this machine!
09/20/2020

4

/

5

Verified Purchase

Nice aircraft, It is the Virtavia-style for fsx Runs very good in XP 11.50
10/20/2020

3

/

5

Verified Purchase

They seriously need to fix the FMC. Otherwise it is a good plane.
05/14/2020

5

/

5

Excellence i have no problams wth it great plane :)
Submit a review of this product
Customers Also Purchased