Using Air Traffic Control for Instrument Flight Rules in Microsoft Flight Simulator Tutorial Video

1 reviews
Was: $13.09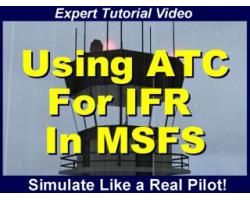 Media Format

Immediate Download

Compatibility

Stand Alone (Video file)

File size

222 MB
For many flight simulation users, one of the most challenging aspects of flying properly is getting used to the professional extras such as understanding air traffic control. A vital part of any professional pilots work life, the ATC has become a deeply enjoyable and hugely useful system to use when flying around as it makes your life much easier in general to work within and use.
However, for flight sim fans it can be a bit much to get used to and can take it a bit too far towards the professional spectrum. However, with this video by Bill Stack you could have no such problems in grabbing the bull by the horns and becoming a far more rounded pilot, capable of prolonged success when flying.
ATC management is more than just an extra, also – for a professional pilot, it's an absolute must and is something that you need to get to grips with not having access to. To do this, you can use this 27:50 minute video to help understand the finer details in flying alongside this vital part of any professional pilot's typical routine.
Make Aviation More Authentic
The first thing that you are likely to notice upon starting this up is that it will provide you with so much information and advice from the get-go, making sure that you can get to grips with why you need to master this vital aviation function. It helps you get to grips with services such as;
Requesting and management pre-flight briefings to fully understand the path that you should follow. This will help you understand where you are supposed to be going as well as the strengths and weaknesses of the aircraft you are in.

Receive the clearance that you need to learn how to fly with IFR from a towered, and non-towered, airport. This is a vital part of making the simulation feel authentic, giving you that true feeling of getting in touch with the ATC for clearance.

Acknowledge all transmissions received from ATC to show that you are fully in control of the situation and what you are being asked to deal with internally. A hugely important but massively overlooked part of the process, you need to master this if you want to fly like a pro.

Understand ATC vectors and instructions along the way to ensure you have no problems whatsoever in implementing these when flying. By getting to grips with this tricky subject you'll have a greater chance landing your aircraft and avoiding any mistakes when you are flying.

Request details from ATC to gain access to other vectors, airports and runways to use if the original selection is out of reach, for example. Having all the details is vital to maximizing flight accuracy and ensuring you land your aircraft in the right way as you fly.

Learning how to declare missed approaches and to make sure you keep ATC well updated with your progress and where you are as a pilot. Being able to manage missed approaches is a big part of maintaining clear communication with the ATC, which is another vital part of being a pilot and flying in general.

Receiving landing clearances, and how to make this notification clear.

Various other minor IFR and ATC skills that you need.
Everything included within this package will make it easier than ever to control your aircraft and make it feel as if you are in command. This will in turn make you feel more comfortable and confident flying your aircraft consistently.
Understand Your Strengths
When you begin moving forward as a pilot, one of the main things you need to understand are strengths of the aircraft and the power that you have at your tips. In this guide, you will be given access to ATC instrument flight rule details so that you can fully understand the immense power that you hold within your hands.
This can take a lot of time and patience to work out, sure, but it's very much worth your time investigating and planning to move forward with to improve your performance.
In this guide, then, you will be shown how to manage and prepare your strengths – specifically within the Microsoft Flight Simulator environment – and will give you a deeper insight into managing your strengths thanks to the power of civilian air traffic control. This will let you see how these simulations will affect your performance.
It clearly and openly explained civilian air traffic control, and helps you understand what makes the process you need to follow easier to understand in general. By getting to grips with what makes you a strong and consistent pilot, you are more likely to make use of features such as ATC to keep yourself on track.
When you know your limitations as a pilot, you are far more likely to hit the kind of performance levels that you are capable of. Indeed, to do this you need to clearly understand the limitations that exist on your party and what you have to learn on your own. Whilst this detailed video will show you as much as it can, it's not built around showing you features like;
Understanding instruments and making them work in the way that you need them to. This is the domain of other guides prepared by Top Skills, so if you need help with instruments you should look elsewhere.

How to use MSFS add-ons; this is built using the original, "vanilla" edition so you won't see any other ATC add-ons or extras referenced or used within the writing and the planning held within.

This works on explaining civilian air traffic control which works very different to the military equivalent; if you want to learn about how the military use their ATC functions then you would be best served looking elsewhere for that kind of information!

You will not learn about instrument flight rules in here, either. This is covered directly in THIS guide, which will help you understand how to manage instruments to the best of your ability.
Additionally, this package does not cover;
Real-world aviation plans – the real-world procedure is different and therefore this package cannot be used as an educational tool for flying a real aircraft.

It cannot be used for tower simulations, either, as they tend to follow their own plans and differences with the reality of ATC management and control.

Not suitable for using in multiplayer simulation as this is built around using the ATC system within the original MSFS program only.

Combat simulations will not use these scenarios, either, as they tend to be built around military ATC plans and procedures.
What this does cover, though, is a range of details and changes that need to be followed and understood to improve your general aviation quality and your overall competence when flying in a single-player environment. By getting used to the level of detail needed to fly an aircraft professionally using ATC, you will have no problems whatsoever in improving your overall level of competence when you move forward, further improving your overall competence and understanding of basic flight simulation procedure.
Designed by Experts
This program comes with a deeply scripted and professionally prepared narration on top, which makes it much easier for you to follow and to stay on top with what you need to know and what has to be put in place as you fly. The narration offered here makes it easy to follow and stay on track.
Indeed, everything is described clearly and openly so that you can have no doubts about what direction you wish to go in or what way you want to make your overall flight education head in, with every last detail being offered up front.
An animated range of highlights are offered so that you can buy into each of the key concepts, ensuring that you are able to understand the easiest way to manage the scenario that is put in front of you and so that you'll memorize the key procedures involved with ATC management.
Detailed explanations are offered across the board, as well, which are used to help you manage and maximize your level of performance when it comes to even the most specific and obvious of choices. This will make it much easier to ensure you stay on the right track moving forward.
Audio quality has been improvement and worked upon time and time again to make sure the video sounds the way that it should and that it carries the right level of quality throughout so you never need to miss out on what is being said ever again!
Instructions are included as is a special 15-page ATC glossary, build up to ensure that you are always on track. This PDF document can be ready with ease and makes sure you have no problems capturing the best terms and commonly heard details when you are flying with the ATC in tow.
ADDED IN: FREE V-Speed Card!
This excellent addition of the V-Speed Card should make your life much easier as it gives you a velocity and alphabetical sorting on either side. This ensures you can start flying your aircraft at the right level and the correct way, always hitting the right V speed to ensure you can apply these details to every aircraft that you fly – this is universal, not specific.
Customer Reviews
Rated 5.0/5.0 based on 1 customer reviews
10/22/2015

5

/

5

We are all trying to achieve the most realistic flights possible within our flight simulators, and one way to do that is to learn to communicate with ATC (Air Traffic Control) for your IFR (Instrument Flight Rules), the way a real pilot would. This brings a level of realism to your flight simulator experience that rivals any boost gained by means of higher resolution textures or better aircraft models. The trouble is, this method has quite a steep learning curve; there are lots of procedures and processes, as well as unfamiliar terminology and abbreviations that you must know to be able to do it all properly. But with this tutorial video from TopSkills, Using ATC for IFR, you can learn it all with ease.

The information collated in this tutorial video has been methodically researched and taken only from the most reliable sources, including real-world aviation manuals, and both professional and personal experience. It is important to note here, that there are differences between real-world aviation and a home-flight simulator environment and as such, the skills and knowledge gained from this tutorial, should not be applied to real-world aviation.

TopSkills videos are cleverly designed to make it as easy as possible for you to learn at your own pace. You can rewind and pause as necessary, to go over a section again or even to take notes. Each topic is displayed on its own screen and key information is assisted by graphics and animations to aid in highlighting key concepts and lessons. The high quality voice over is clear and easy to follow, and is also scripted, so that you can take as much as possible in from a single viewing.

Over the course of this 27 minute video, you'll learn how to acknowledge ATC transmissions, declare missed approaches, receive landing approaches and lots more. If you know how to fly your aircraft and know how to use your instruments to get from one airport to another, you will be in the best position to get the most out of this TopSkills tutorial video. With a bit of time and attention, you can learn how to use ATC for IFR safely and confidently, and enjoy incredibly realistic flights as a result.
Submit a review of this product
Customers Also Purchased