This addon is compatible with
Microsoft Flight Simulator X
. It should also work with
Microsoft Flight Simulator X: Steam Edition
. Some developers have explicitly stated compatibilty with Steam Edition but others haven't. Check the product description below for guaranteed compatibility. Just because it doesn't mention it, this does not mean it will not work with the
Steam Edition
.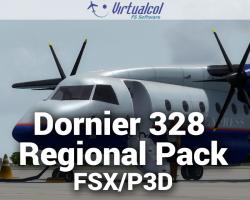 Media Format

Immediate Download

Compatibility

Microsoft Flight Simulator X inc. Steam Edition & Prepar3D all versions including v4

File size

450 MB
As a rather popular aircraft, the Dornier 328 still enjoys many virtual pilots. However, that being said, there are limitations to the models available. This package by Virtualcol helps to add a freshness to the aircraft, introducing a pair of Dornier models to pick from: The Dornier 328-110 and the Dornier 328-30. For fans of the aircraft brand, you will be able to finally fly a much more modern, professional take on the Dornier 328.
While out of production today, the Dornier 328 has been a major part of the commuter airline scene since the early 1990s. it was first introduced in 1993, and since then has become a common choice in nations like Germany and the United States.
This adds a whole new host of changes to the external models, making this old classic look as good as new. On top of that, the interior work has been extensive, creating the interior of the 328 to look as close to the real thing as is possible in FSX/P3D. Designed to make sure that every flight is as enjoyable as is possible, users can enjoy a comprehensive take on the Dornier both inside and out.
What's New?
A huge change to the exterior modeling of the aircraft, with both the Dornier 328-110 and 328-300 included.
2D paneling and 3D improvement cockpits are involved to help make sure you can get the best possible control of the aircraft as you take to the skies.
High-resolution textures make sure that your flight in the Dornier looks good, feels good and is easy to enjoy from a pilots perspective.
High-quality liveries include, with several repaints to pick from making it easy to find a Dornier that fits your own role-play needs.
Original panels and gauges are used to help add an extra layer of realism when you are in the cockpit.
Impressive new prop and jet sound packages correspond to your choice of aircraft, ensuring either Dornier sounds appropriately loud.
New and authentic ground service animations take place all around you prior to takeoff.
Easy to set up using the installation planner provided.
Liveries Included
DORNIER 328-110
Aerolínea de Antioquia – ADA
Air Alps
Air Alps Sudtirol (OE-LKB)
Air France by Proteus Airlines
Alitalia Minerva Airlines
AMSA Rescue
Blue Islands
British Airways by Sun Air OY-NCK
Central Mountain Air
Cirrus Airlines
CITYJET
Eastern Airways
FLYBE by Loganair
Gandalf Airlines
Great Plains
Horizon Air
LoganAir
Private Wings
Rhein-Neckar Air
Satena
Scot Airways
SkyWork
United Express
Us Airways Express
USAir (Old scheme)
Vision Air
Welcome air
DORNIER 328-300 JET
ADAC Ambulance
Air Valley
British Airways Sun Air OY-NCO
Cirrus Airlines
Delta Connection
Gandalf Airlines
Great Plains
Hainan Airlines
Midwest Connect
Private Wings
Swiss jet
United Express
Vision Air
Welcome Air
Submit a review of this product
Customers Also Purchased