Dornier 328-110 for FS2004

1 reviews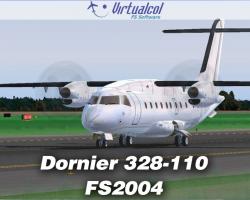 Media Format

Immediate Download

Compatibility

Microsoft Flight Simulator 2004

File size

53 MB
As one of the most popular aircraft of the early 1990s, the Dornier 328-110 has made a key impact on the aircraft market ever since it was first produced right up until the last one was completed in the year 2000. It's a turboprop-powered aircraft that was manufactured in Germany and is still in service today thanks to its simple and effective design mixed with the ease of which it can be learned in which to fly.
For enthusiasts of the aircraft –whether you used to fly one or went on your first holiday on a Dornier – this is the perfect way to get into the skies and really enjoy this aircraft in all of its glory. Faithfully remade to give those who want to fly this aircraft the perfect taste of just how enjoyable being up in the skies in this brilliant aircraft can be, this gives you access to every last little feature that you might be looking for in a simulation experience.
It's excellent cruise and climbing capabilities have been added in as close to realistic efficiency as possible, giving you an aircraft that's fast and responsive to your requests. For those who want to see the real power of aircraft realism within the flight Simulator 2004 environment, you should really think about picking up this package – it lets you fly an all-time classic with everything from the virtual cockpit being made to measure up in the most realistic of styles.
It's currently used quite regularly for rescue missions across the globe, especially as the aircraft has been modified to fit a large cargo door at the back for simple drop-off of needed materials below or to help conduct search and rescue missions. It's this type of all-around efficiency that makes the Dornier 328 one of the most enjoyable aircraft out there at the moment for a flight simulation tool.
Key Features
More than 20 liveries included to give you stunning detail and realistic representation when you are up in the air. The realistic design styles lets you fly the Dornier that you remember the most fondly, letting you enjoy nostalgia as well as realistic and genuine design!

Virtual cockpit has been totally reworked to give you a real feel for just how simple it can be to fly an aircraft when the features that provided to you in a clear and concise way

Unlike other aircrafts out there, you can follow a simple step-by-step plan to get it into the skies and performing just as you hoped it would by simple pressing CTRL+E – this instantly gets the aircraft ready to go and makes taking off and enjoying the most important of your experience, the actual flying, more enjoyable than it's ever been before

Adaptive changes have been included that are the brainchild of many hours of dedicated research and planning to make an aircraft that flies just as you would have hoped it would – it takes every last feature of the real thing and adds it in when possible to give you the closest FS2004 flight experience that you are likely to come across!
Repaints Include
ADA
AIR ALPS
BRITISH AIRWAYS (SUN AIR)
CIRRUS AIRLINES
CITY JET
CENTRAL MOUNTAIN AIR
FLY BE
GANDALF AIR
GREAT PLAINS AIRLINES
PRIVATE WINGS
SATENA
SKY WORK AIRWAYS
UNITED EXPRESS AIRLINES
US AIRWAYS EXPRESS
VISION AIRLINES
WELCOME AIR
Customer Reviews
Rated 5.0/5.0 based on 1 customer reviews
05/28/2017

5

/

5

Verified Purchase

Really good purchase aircraft is amazing i love it.

Just a quick question is there any more liveries available as one i am looking for is Flybe / Loganair GYBMK in white livery and also City of dundee livery as well.

any further products i would recommend to anyone as this aircraft is stunning. Will use your site again without a doubt
Submit a review of this product
Customers Also Purchased