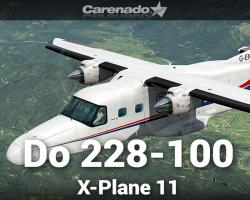 Media Format

Immediate Download

Compatibility

X-Plane 11

File size

690 MB
For an aircraft released in the early 1980s, the Dornier Do 228-100 is a truly impressive aircraft. Presently under use by the Indian Air Force and Indian Coast Guard, at tone stage, this was a much more widely used aircraft. Revived in 2010 by RUAG, the aircraft line has managed to maintain a reputation for consistency and ease of control for many years. As such, they remain a popular brand of aircraft to fly in.
With this release by Carenado, then, you can fly an old classic in just the way that you would have expected. Please be aware that this is only for X-Plane 11; it simply will not work in older simulators.
With a full PBR system used to help make sure the materials of the aircraft slink and shine as they would in real life, this makes a must-have for all pilots looking for something a touch more authentic and enthusiastic. If you have had the pleasure of flying on a DO 228-100 in the past, be sure to try this out!
Key Features
Specifically managed from the ground up to ensure it plays to the new and improved rules of X-Plane 11.
This allows for a new level of accuracy in flight dynamic which is unprecedented, adding a much greater uniqueness to the way that the DO 228-100 controls itself.
Flight physics have also undergone a ground-up replacement, now running on the unique and specific rules of the X-Plane 11 model.
Ground handling, too, has been transformed. This helps the aircraft to feel far less generic and much more personable, adding to the overall immersion of the flight.
New physically based rendering (PBR) changes to allow for the aircraft to look much more like the real thing. The materials shine as they would in reality, while textures are 4K-crisp.
Developed using industry standard software that is commonplace in the entertainment industry for the sharpest, most specific finish possible.
Fully compatible with both the X-Plane GNS 530 as well as the RealityXP GTN750. This is fully integrated into the 3D cockpit, too, when available/needed.
Using VR? Then make the DO 228-100 feel even more immersive with its full VR functionality. Click spots exist that can easily be used to help make simulation even more immersive.
Fully compatible with Goodway, too.
Authentic flight behavior helps to make each flight undertaken to feel much more like the real thing.
Attention to detail allows for impressive aircraft weight and balance.
Tested by numerous professional pilots to make sure it lives up to the standards of the real aircraft.
What's Included?
As part of this package, then, you can enjoy:
A high-quality model utilizing high definition textures in line with X-Plane 11 standards.
6 HD liveries all designed to match the same quality of the default model.
1 HD blank livery for creative types to make up their own special DO 228-100 livery!
Checklist PDFs for emergencies and general flights alongside performance tables and references.
X-Plane FMS assistance, DO228 MFD assistance, Recommended settings PDFs for better information and planning.
Submit a review of this product
Customers Also Purchased