C337 Skymaster HD Series for X-Plane

2 reviews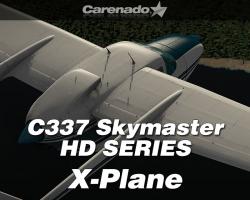 Media Format

Immediate Download

Compatibility

X-Plane 10.40 (or higher)

File size

288 MB
Now version 3.2.
The distinctive C337 Skymaster, with its push-pull propeller configuration, arrives in the simulated world of X-Plane, with updated features and Carenado's fantastic HD treatment. Available for X-Plane 10.30 or higher and now pushing full compatibility with 64 bit versions, this new version is miles above it predecessor.
As an aircraft that already looks a bit different, at least compared to the numerous Pipers and Beechcraft on the market, it's important for it to have a well crafted model to do it justice, and translate its interesting design and character through to our simulator software. To that end, Carenado's amazing polygon optimized model, provides both a high level of detail that reveals every rivet and bevel of this great aircraft and while mitigating any negative impact on your computers performance. Five super high resolution liveries come in a variety of colors and designs that compliment Skymasters interesting shape, with one specifically painting the twin booms that extend aft of the wings to the vertical stabilizers. An equally high resolution blank texture is also included with this package, to be used as a template when creating your own personalized liveries for this aircraft.
An audio fidelity that's on par with the visuals is achieved by using a custom sound set, made up of high quality recordings of the original aircraft. They add depth, credibility to the numerous animations and give the engines the bite that they need for us to suspend our disbelief.
Unlike conventional twin engined aircraft, the Skymaster as its engines mounted in the nose and rear of its pod style fuselage. With this configuration, an engine failure will not result in the aircraft yawing left or raw towards the failed engine and will remain sky worthy to a degree, suffering in speed and rate of climb due to only one half of the push-pull combo being operational. Accurate flight dynamics then, that can match the Skymasters unique handling and performance, are a key factor in delivering a true to life experience. Which is why Carenado had them tested by real Skymaster pilots, to ensure their accuracy and safeguard the fact that they were delivering the best package that they could.
Special Features
Only for X-Plane 10.30 or higher.
X-Plane 64-bit compatible.
Includes improved default X-Plane 10.30 GNS430.
Plugin-enhanced
FPS-optimized model.
NEW! Scroll wheel support
DDS textures for faster load times and optimization
Features
Original HQ digital stereo sounds recorded directly from the real aircraft.
Default X-Plane 10.30 GNS430 installed.
390 pixel/meter textures
2D windows: Cameras (for setting different cameras and field of view) and Options (for opening pilot and baggage doors, making invisible windows reflections, statics elements and tinted windows).
Original C337 Autopilot
Accurately reproduced flight characteristics. Tested by real Skymaster pilots.
Realistic night lights effect on gauges and virtual cockpit.
Polygon optimized model.
Full moving parts: Ailerons, elevators, rudders, flaps, rolling wheels and trim tab
Animated sections such as: propeller, doors, windows, sunvisors.
Toggle yoke.
Real weight and balance.
Included in the package:
5 HD paint schemes.
1 HD Blank texture.
Normal and Emergency Procedures - Performance tables PDF.
Quick reference table PDF.
Recommended Settings PDF.
Customer Reviews
Rated 4.0/5.0 based on 2 customer reviews
05/12/2020

3

/

5

Verified Purchase

Please confirm normal operation of the app C337 with macOS Catalina (64 bit). I am getting some problems. When I try to open the instrument panel to be a clear one, without the two pilots seated, I get a non complement image of cockpit etc. After start what to do to have normal panel without pilots? Regards
09/26/2020

5

/

5

I have the fuselage for VH-SBZ in the museum and currently converting it to a flight simulator
Submit a review of this product
Customers Also Purchased