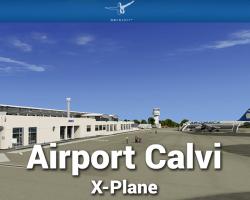 Media Format

Immediate Download

Compatibility

X-Plane 10.40+ or X-Plane Steam Version

File size

280 MB
The Airport Calvi - Sainte Catherine (CLY / LFKC) on the island of Corsica is beautifully embedded in a valley to the south-east of the town of Calvi.
This is rendition of the airport Calvi - Sainte Catherine for X-Plane 10. The airport itself has been faithfully recreated with high resolution aerial images, numerous custom 3D objects and exact ground markings, including the old painted-over markings. It also includes reworked terrain and an impressive night lightning.
The developers have also paid great attention to the surrounding area of the airport, the nearby business park and the citadel of Calvi.
Landing approaches are particular fun in Calvi: While Sainte Catherine is usually approached from the seaside; pilots can fly past the airport to the west, then turn by 180 degrees and approach the runway from the south.
Features:
Realistic rendition of Calvi St. Catherine based on real life images
Photo real buildings
Large Aerial image with 50cm/pixel in the surroundings and 25cm/pixel on the airport, carefully fitted into the default X-Plane landscape and colour-adjusted
Customized terrain, runway follows terrain
Realistic reproduction of ground markings including old, painted-over markings
Animated marshaller (additional plugin 'Autogate' requested)
Customized night illumination
Custom made trees and forests
Very good performance and implementation
Animated bar on the entry of the parking lot
Numerous details
Changing static airplanes including wreckage to the south west
Animated road traffic
Recreation of the citadel of Calvi and vessel
Submit a review of this product